Feeling a bit under the weather, Lyn and I drove around Petaling Jaya looking for some soupy stuff to make me feel better. Only when we drove into Cheow Yang area did I recall a friend of mine telling me that she had tried this great soup at the Lim Mee Yoke Coffeeshop, formerly the old Cheow Yang Coffeeshop (157 Jalan SS2/6, 47300 Petaling Jaya, Selangor). I have not been eating here for awhile and didn't know about this stall till she told me. She asked me to look out for two huge claypots and I'll find the stall which is right in front of the shop. I didn't really know how huge the claypots were till I saw them!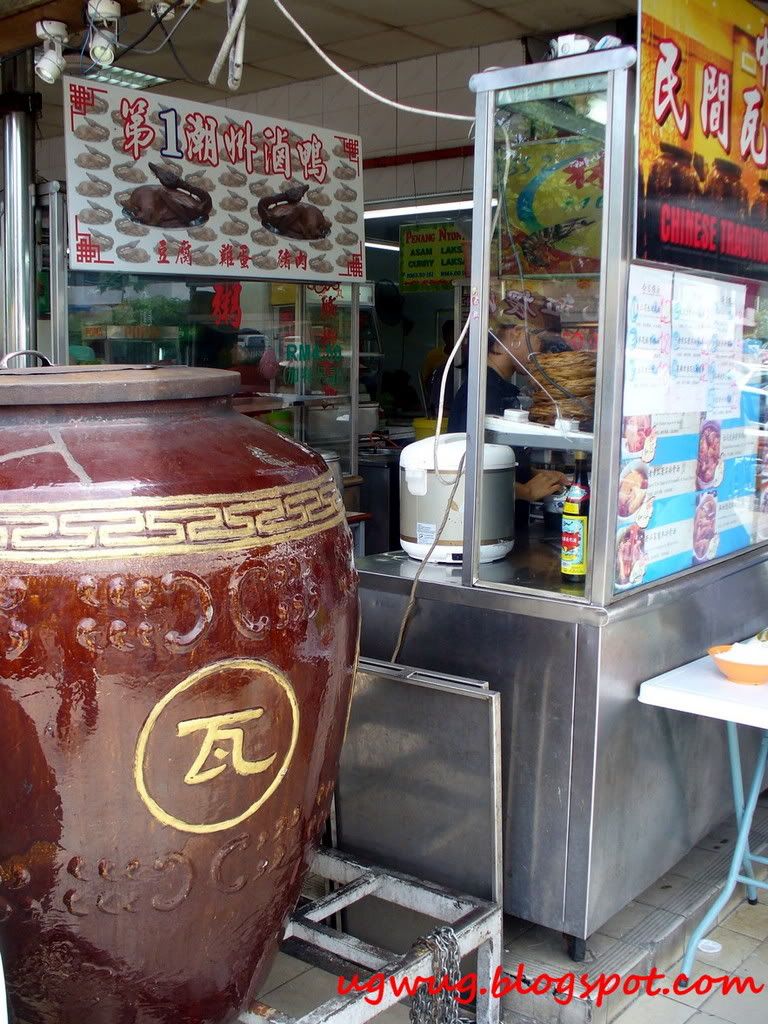 With quite a variety of Chinese Traditional Herbal Soups available (RM12-18), we could only order one type as a pot is good enough for 2-3 people! We opted for the Spare Ribs, Octopus, Lotus Root and Peanut Soup (RM12).
We then saw the girl climbed onto a raised metal platform which supported the two huge claypots and reached in to take a pot of soup out with a some sort of a long contraption. As you can see from the photo, the two claypots were huge!
A much tinier claypot arrived at our table with a generous amount of soup and ingredients inside. Piping hot, both Lyn and I enjoyed drinking up the tasty soup and finished all the lotus root and all the other stuff (sharing a bowl of rice which was included with the order).
The meat was tender, the peanuts and lotus root were nice, "cooked just right, great to bite", The empty pot was a testament to how nice it was (or maybe we were both just hungry? ha ha ha....). We'll be back to try the other varieties soon....
"Good soup is one of the prime ingredients of good living. For soup can do more to lift the spirits and stimulate the appetite than any other one dish."
- Louis P. DeGouy, The Soup Book