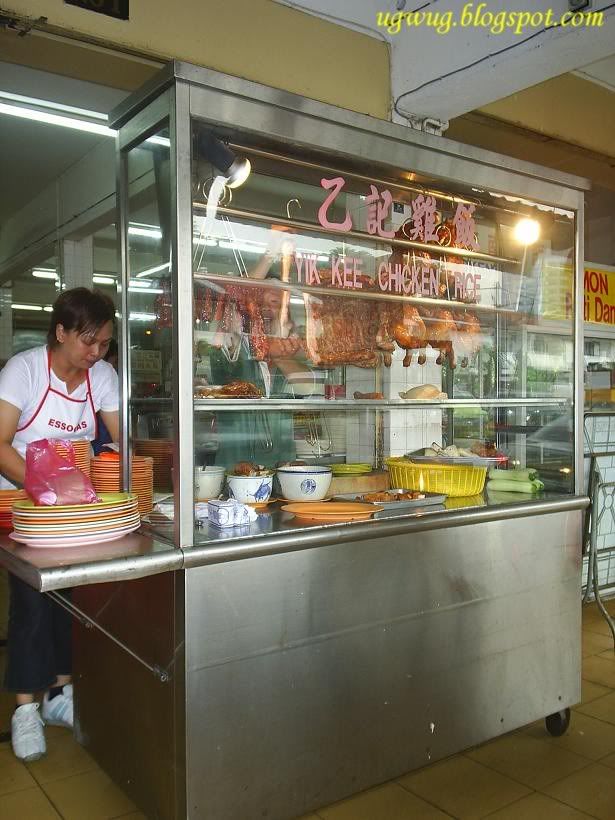 (NOTE : YIK KEE IS NOW ONLY OPERATING DAYTIME AT SUN YIN LOONG COFFEESHOP IN SUNWAY MAS, NO LONGER IN DAMANSARA KIM)

With advance notice to my Muslims reader, today's short post is non-halal. I am one who doesn't really like to eat pork unless I find it super yummylicious. There are three places where I would. One is the pork noodles in Tengkat Tong Shin (same coffeeshop with the famous Chua Brothers Fish Ball Noodles). The other is the Char Siew (BBQ Pork) from the shop few doors down in Tengkat Tong Shin too. And then there is the Siew Yoke (Roast Pork) from Restaurant Kin Wah (I think they have changed the name now, not sure what it is) in Damansara Kim. It's the corner coffeshop, same row as EuroDeli. The stall name is Yik Kee. The rest of the meat are good too but I only eat the siew yoke whenever I go there. Ha ha... if you click on the image for a larger view, you'll see the stall operator smiling behind that glass panel! The lady is his wife; both of them are friendly folks. I have tried another good siew yoke place in Pudu but the fella there has an attitude problem. We arrived at 12 noon and there was already a crowd. Guess what? We had to wait for him to strut out with the siew yoke at 12.30. The four of us had earlier placed an order for four strips of siew yoke but were only served two as we were told that there wasn't enough for us! Meanwhile we saw other people with heaps of siew yoke serving. He even had an arrogant look. That was more than a year ago, we never went back there again. Some people just don't deserve the business!

Oh! Bear in mind that there are two different operators for this stall in Damansara Kim, one for lunch and Yik Kee operates in the later part of the afternoon. If you want to taste nice siew yoke, this stall operator opens at around 4 pm plus. I'll choose this stall over the Pudu one anytime based on friendliness alone! Mrs Pitt, yes, this is another entry on food. I eat at least 2 meals (inevitable) a day and takes pictures sometimes. Don't worry about too much good food, I don't eat food like King Crab all the time! Mmm...the char siew and siew yoke in Chinatown, San Francisco are never as good as the ones here in Malaysia!