Giveaway? You read that right! Read on till the end to find out how you can take part in My Memories Suite Giveaway ($40 value). How did this come about? Let me do a quick recap from the past :o). I still remember what I wrote sometime back in Feb 2007 (

5 things you didn't know about me

).

I love

paper crafts

- I buy lots of magazines and books but I never sit still long enough (apart from being on the PC) to do a proper project! Ha ha ha...Here's part of the "library".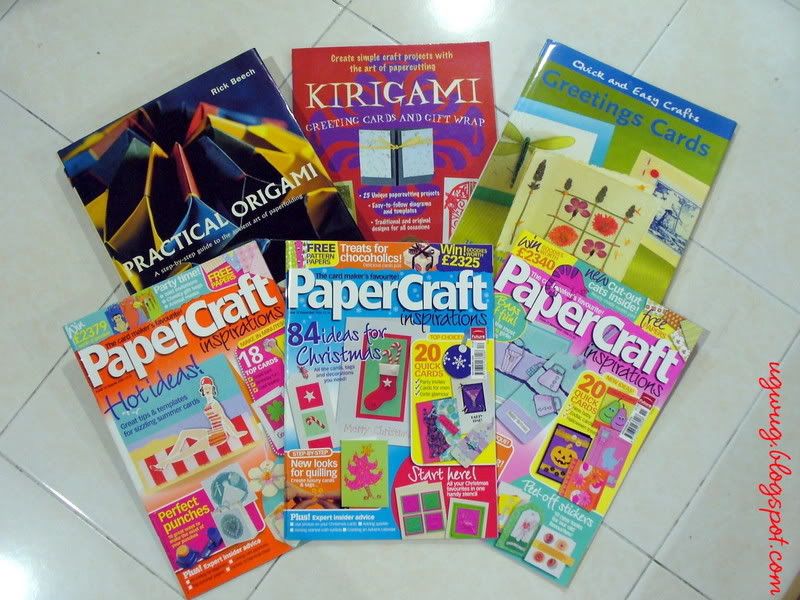 And then in January 2008 when
I did a tag
passed on to me by
NKOTB
, I had said that one of the things I'
ve
always wanted to do is to be serious about my paper
craft work
!
Recently, I was given a copy of
My Memories Suite
to review and blog on my opinion of it. I now have the opportunity to get some projects off the ground! This
digital scrapbooking software
that's rated #1 by Amazon and Top Ten Reviews, creates scrapbooks easily (photobooks, cards, calendars and much more too!). Since I had said that I'm usually on the PC most of the time when I'm at home (that is whatever little amount of time when I'm indeed at home!), this
scrapbooking software
definitely is such a booster for me to start on my projects! Best part about it is that one can even add audio/video to the projects! Before this, projects usually means clearing table space and having my craft tools & kits at hand which which is why I haven't been that serious about it as I want to be. Anyway, I've been checking out My Memories Suite bit by bit and recently did a project.
Here's a screen shot of the software
Starting on my first project, I wanted to do a page with the dogs ... you can design your own album or choose from one of the many design templates. Here, I use one of the pages from the "Out Of The Box-Spring" design. Selecting photos to be used is a breeze, you can just drag the photos from the left panel and right onto the design boxes.
I did some slight redesigning to move (and add) the boxes around and I added the ready-to-use embellishments (Word Art) from the Dog Gone Cute kit and created this. That's it, quick and easy. Okay, you are gonna ask how did I get the picture to be posted here from the album in the first place. Here's how....
Click on the "Share Album" button and you can choose any of the options from the drop down list :-
Export to JPEG (which is the one I chose), Photo Album, Calendar, Interactive Album, Make Movie, iPod-ready Movie and Burn DVD-Video!
I had so much fun making this too, so much so that I need to stay at home more often to start on more projects. My Memories Suite is easy, quick, fun and most of all mess free, hahaha...Actually, it's great for bloggers as we can make collages out of the many photos that we put on our blog, makes it more interesting.
The best part of the post is here...Good news for all! Here's a special for You Get What You Give readers, MyMemories.com is giving a $10 discount off the purchase price of
My Memories Suite Scrapbook v2 software
and also a $10 coupon for purchases made at
MyMemories.com
store buying your own digital kits ($20 value!) Just enter this code at checkout STMMMS37325 to get your $20 value! Copy and paste the code to avoid typos when using it.
However, one of you blessed readers now have a chance at getting a FREE download of My Memories Suite v2 valued at $40. Enter this giveaway by doing the following : -
1) Visit
MyMemories.com
2) Choose your favourite digital pack or layout and then leave a comment on this very"My Memories Suite Giveaway" blog post of mine. telling me which ones you chose.
3) Click on the Like button located at the top left corner of this post so that you can also share the news about the giveaway.
4) Follow my F.A.T adventures - click the "Join" button located on the right side bar of my blog.
For extra entries, follow MyMemories on their
blog
or
Facebook
or
Twitter
(follow all 3 for an extra 3 entries!).
Closing Date : 6 October 2011. The winner will be announced on 7 October 2011.
ALL THE BEST!