Once in awhile, the gang of us would have a craving to eat steamboat. However, I'm not talking about the ones in the restaurants but by the roadside, more known as "
lok
-
lok
". For the conventional steamboat style, the usual way of cooking the ingredients is by putting it into the boiling soup stock. However, in
lok
-
lok
; meats, eggs and all sorts of other stuff are skewered and dipped into a pot of boiling water and cooked.
You also have
lok
-
lok
stalls in hawker centres or
coffeeshops
apart from the mobile ones. In the shops, the boiling pot of water would be located in the middle of a round table. The plates of skewered food will then be placed around the pot for easy access. The water is boiled over fire from a little stove under the table with a running hose attached to a gas
cyclinder
nearby (talk about living/eating dangerously!). Ha ha ha... Anyway, we usually patronize the mobile stall in SS2, in front of 7-Eleven.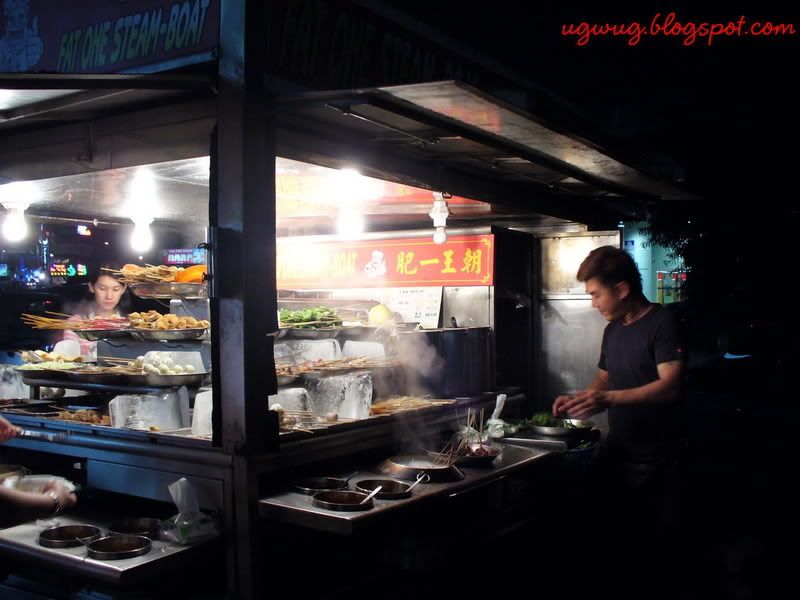 These are franchised stalls and are found almost everywhere. Some go by the name of Fat One Steamboat, some Fat Man Steamboat (eh, not that flattering to eat there actually, but I guess the whole lot of us customers don't mind!). If one were to noticed, you'll will realised that most of these stalls are located near 7-Eleven outlets, pubs and places that are open till late. They are also found in
pasar
malams
(from 5 plus pm onwards) whereas they would only open at around 11 pm till early hours of the morning at the other locations.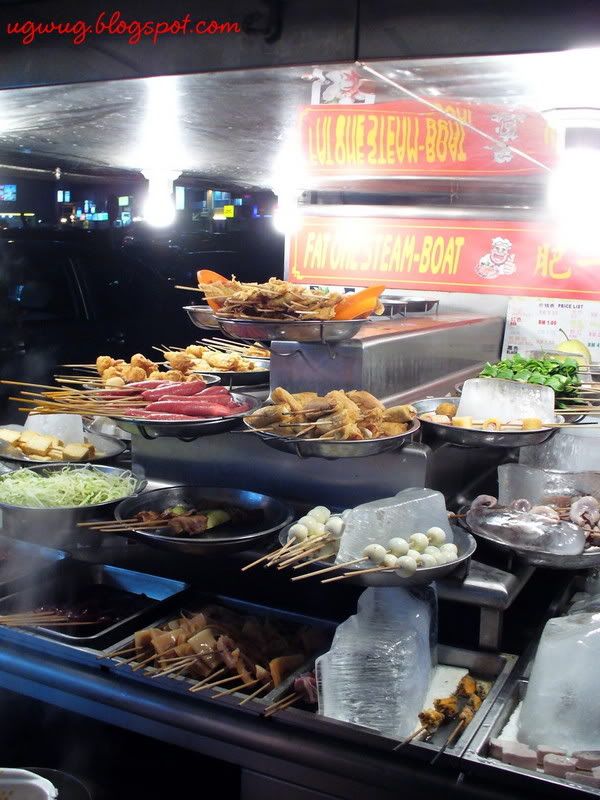 Blocks and blocks of ice are put near to the trays of skewered food to keep it fresh. You pick what you want and dip it into any of the pots of boiling water located around the mobile stall.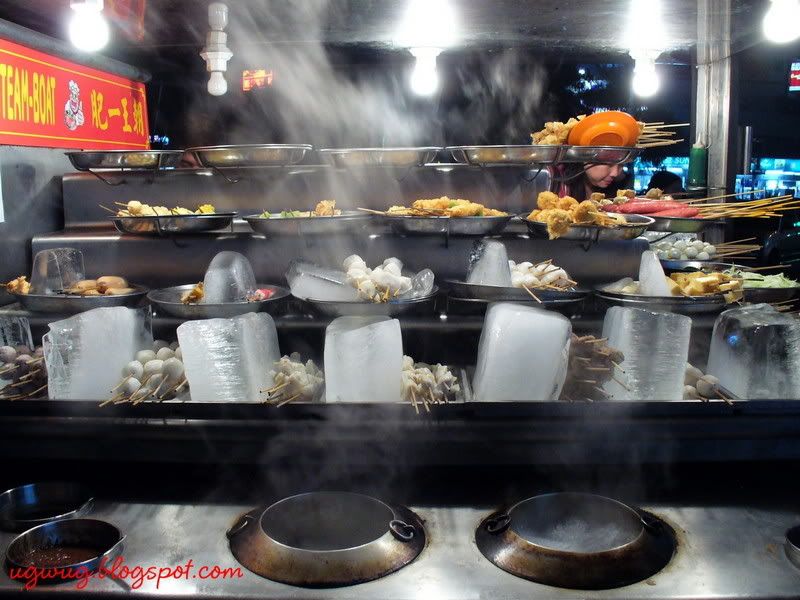 The good thing about eating by the roadside is that it's a lot cooler and the group of us usually enjoy eating and bantering while standing around! Ah
Joo
, the stall owner even chats along with us as we gather around the stall
.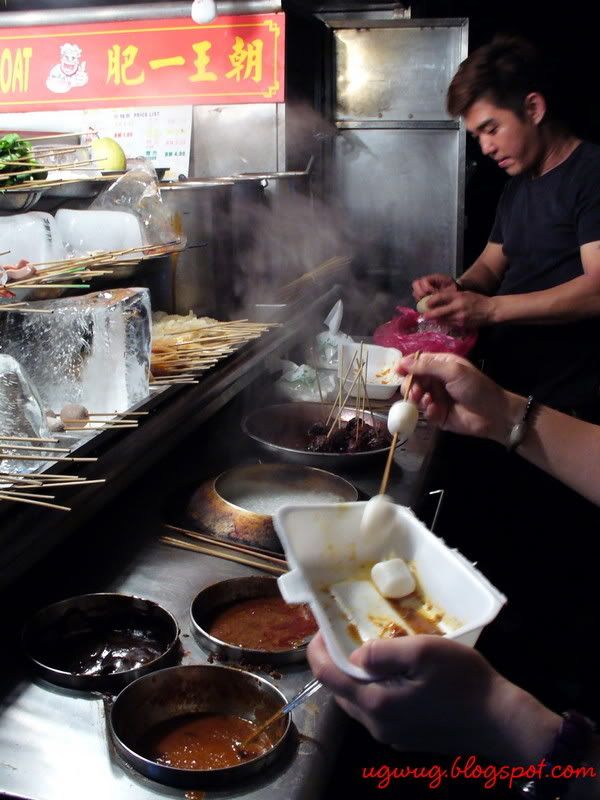 Styrofoam boxes torn into halves to turn into makeshift plates are used to hold the skewered food and sauces. I love the
chilli
sauce here, really hot stuff! They also have a choice of sweet sauce and satay peanut sauce.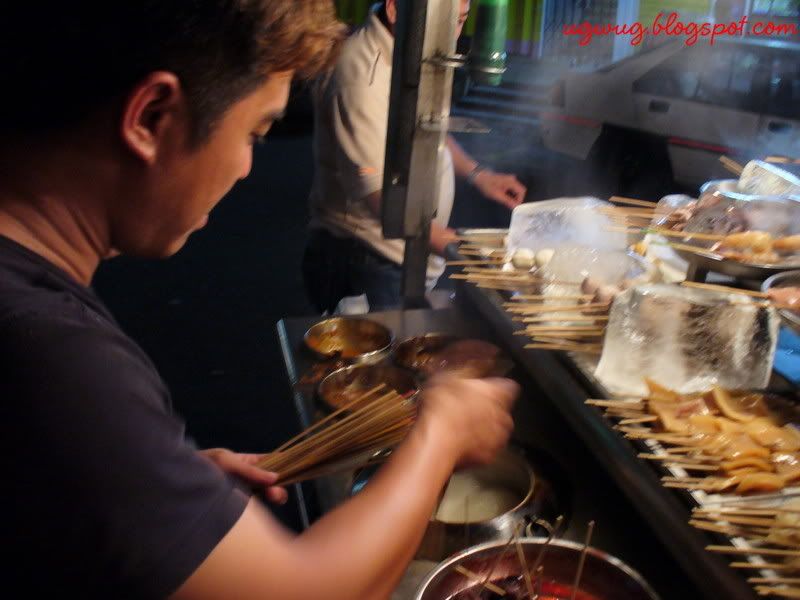 When we're done eating, we'll hand the sticks to Ah
Joo
and he'll count them. The prices range from RM0.50-RM2.00 each and the end of the sticks are colour coded to differentiate the price. I believe this is truly one of the ways to enjoy food and in a very local way indeed. Mrs Pitt, care to try the next time you're visiting Malaysia? ;o)
Skewered sticks of food inside a pot,
Cooked and dipped into

chilli

sauce that's real hot.
Look at all those sticks, now that's a lot,
Eating & laughing with friends; happiness that can't be bought!
-

wmw