Gosh! Exams are over!
Yay
! I hope I don't have to re-sit! Ha ha ha...(laughing in a delusional manner!). Oh well, I have been catching up on my sleep and running lots of errands. Before, I write about food. I must blog about the wonderful play I saw on Saturday night. Took Sis
Mah
to watch
SIB
's musical drama
"Drunk Before Dawn"
.
JC
managed to get me two tickets from a friend; tickets for all the shows were sold out! I must say, it was very nice. Loved the songs and the story was good. Well, we aren't exactly talking about Broadway plays but in my opinion, it was better than a lot of shows that I've seen here. Professionally done, great cast and all, for the fact that this was coming from a church. Even if the message of God didn't touch the heart of the audiences, the play itself would have wowed them. After all, this play was inspired by a true story. On Dec 21, it will be shown in
Kota
Kinabalu
at the
Yayasan
Sabah
Auditorium to raise funds for charity! It's even on the website of the
Sabah

Tourism Board
! Go see it the play if you can!
Okay, now back to my regular program! Food...
Hee
hee
...This time my fave place for roast duck,
Restoran
I-Po in
Taman
Bayu
Perdana
,
Klang
(located a few
shoplots
away from the
Maybank
that's next to the
Caltex
petrol station). Why do I love the roast duck here? Obviously, for a sinful reason, ha ha ha....The difference here is that, upon taking the order for a duck, they will dunk the roast duck into hot oil (hidden from our view) for an extra minute or so. So, what we get is a roast duck with crispy skin. However, this means that the roast duck has a bit more oil. Complete the meal with the nice duck sauce and their special
chilli
sauce plus tasty soup and there you have it, a meal that truly makes your day! Well, it makes MY day at least. ;o) A whole duck is going for RM32 (unless there is a price hike from the time of my visit-not surprising, everything is going up,
LDP
toll, from RM1.00 to RM1.60! Gasp!).
On one of my visits there, the three of us girls ordered a whole duck and the lady looked at us as if we were mad. Of course, after the meal, we showed her that we really loved the duck, were really hungry and that she was right, we were REALLY mad.
LOL
! A pic of the duck you say? Here it is!
Oooh
....I must make a trip to
Klang
for my roast duck soon, I'm craving for it now, looking at the pic!
As for desserts, we ended up trying this new place, Leo's
Kafe
in
Bukit
Tinggi
. I was at
Bukit
Tinggi
again recently at night. Wow! That place is really happening. Lots of packed restaurants and cafes. The roads were so busy and made even more crowded with the customers dining at the roadside. Gotta go back and try the other outlets there one day. Back to Leo's, we didn't try the food as we were still full. Anyway, the menu looks pretty ordinary and prices was reasonable.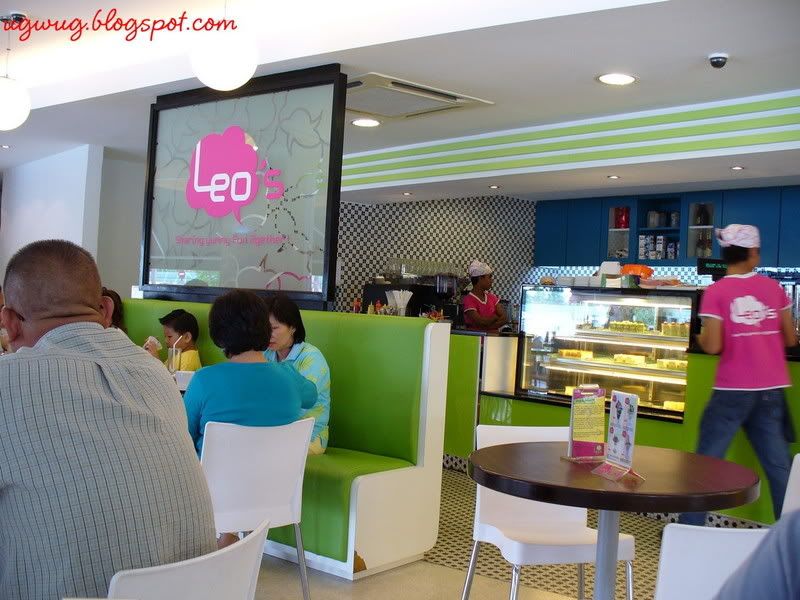 The place is filled with "happy" colours. The staffs' uniform is a shocking pink
t-shirt
and
pink
bandanna; cute for the waitresses but not so for the waiters!
What caught my eye was the
gelato
selection. I quickly ordered one with
biscotti
(forgot the name - reasonably priced at RM5plus) and thoroughly enjoyed it. The rest of them had coffee.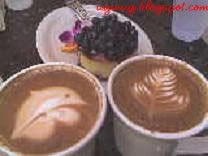 I like the cute design they did, sort of like those in the States but of course, those in the States are a lot nicer and more complex like this little pic on the left that Mrs Pitt sent me when she was in Los Angeles. This is what she said about the drinks at Urth Cafe. "Check out the way they do the latte at this Urth Cafe. They make pictures with the milk and froth...leaf on one and a dolphin on the other. The best part is that the froth was thick enough that after drinking 1/3, the pic was still there!". Such a shame to drink and destroy the design, I'll probably admire it than to drink it!
Well, as for Leo's, can't say anything about the food as I didn't have any, but this looks like a good place to
chill
and catch up with friends, done over a cup of coffee and/or delicious
gelato
! By the way, whoever is reading this, how do you like your coffee (below are some sample answers!) ??? Do tell! Self censorship is advised! ;o)
He said : I like my coffee like my women: hot, strong, steamy.
She said : Chocolate, men, coffee - some things are better rich.
~ Author Unknown