As the excitement builds for the food bloggers' gathering this Friday, some of us are already planning for a weekend food crawl specially for Jason of
Ipoh Mali Talak Sombong
who will be joining us for the gathering.
Using his
wishlist
as a guide, we have narrowed it down to two places for now, Kin Kin for Pan Mee and
Nam Chuan
for Sarawak Laksa. As we're rounding up the food crawl gang, I told Jason that I will post on Kin Kin's Pan Mee (board noodles, I cheekily call them wood noodles at times) to get the crowd excited and for Jason to salivate a bit before he devours them (those are his exact words!)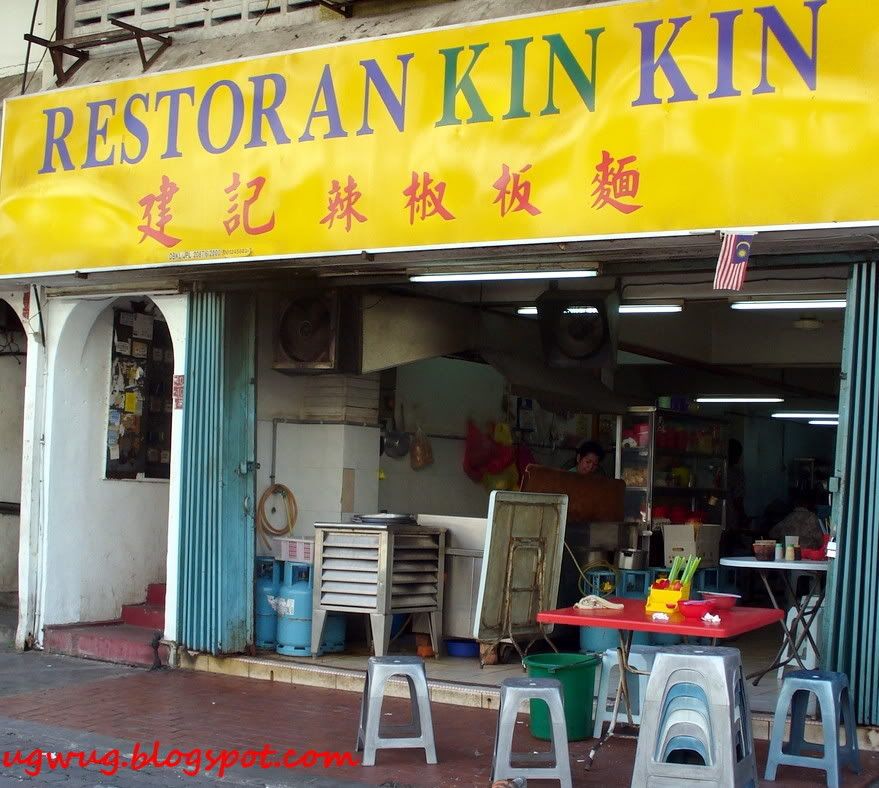 It's usually crowded but I normally drop by this place (40 Ground Floor, Jalan Dewan Sultan Sulaiman 1, Off Jalan Tunku Abdul Rahman - at the back of the Honda showroom at the Chow Kit area) around 10 plus in the morning so as to not have to wait for my Pan Mee. It's open on weekdays 7:30am-9pm, weekends 7:30am-4:30pm and closes last Sunday of each month.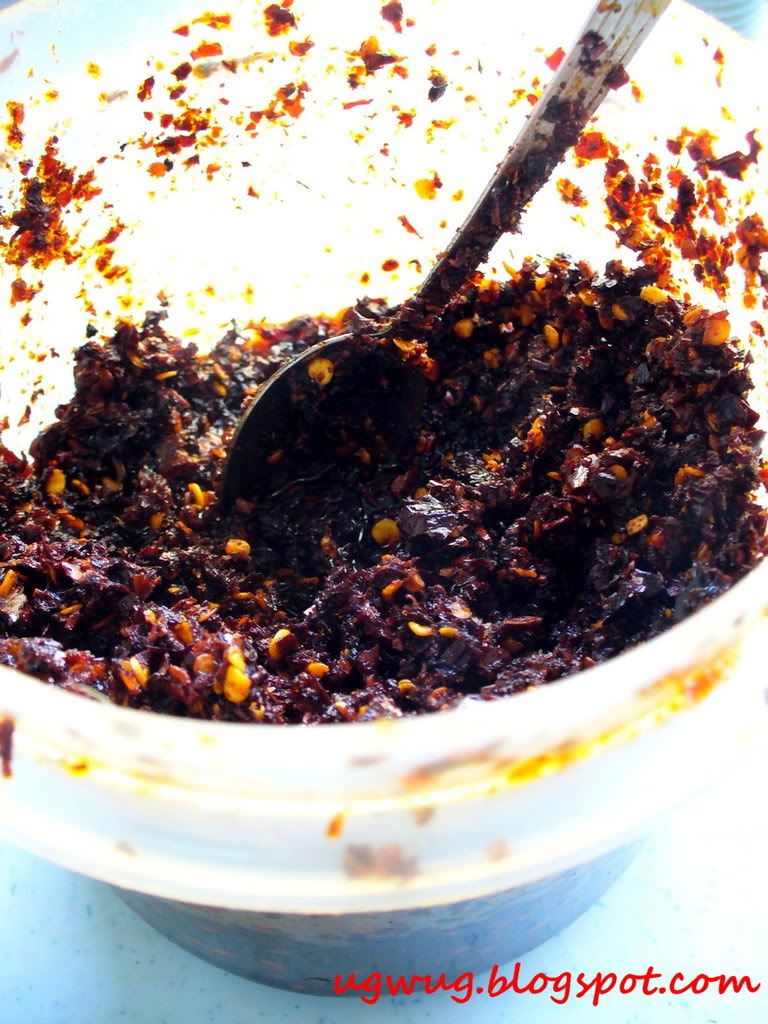 What makes us come back to this place time after time? This "fiery" tub of dry chilli (with bits of dried prawns) on every table are what arsonist's dreams are made off! LOL....The fact that we set fire to our tongues and mouths each time we eat this must surely qualify us as some sort of masochist in a way. Ha ha ha....If one overdoes it, you can feel a burning sensation in your stomach a few moments later and one's down under may suffer the aftermath too ;o). Beginners, please approach with caution!
Mixed the dry chillies according to your tolerance level well with the noodles. By the way, the flour noodles are flatten into a standard size rectangle piece and put through a machine which cuts the flour into strands of noodles enough for a bowl. There's no Big or Small here, just one standard size. It comes with a poached egg; its runny egg yolk (along with minced meat, anchovies, fried shallots and bits of crispy lard) adds on the the yummy taste as it moisten the noodles and ensures that each strand is chilli coated! I have even seen some add chilli padi on top of this! Those people must be really hot stuff....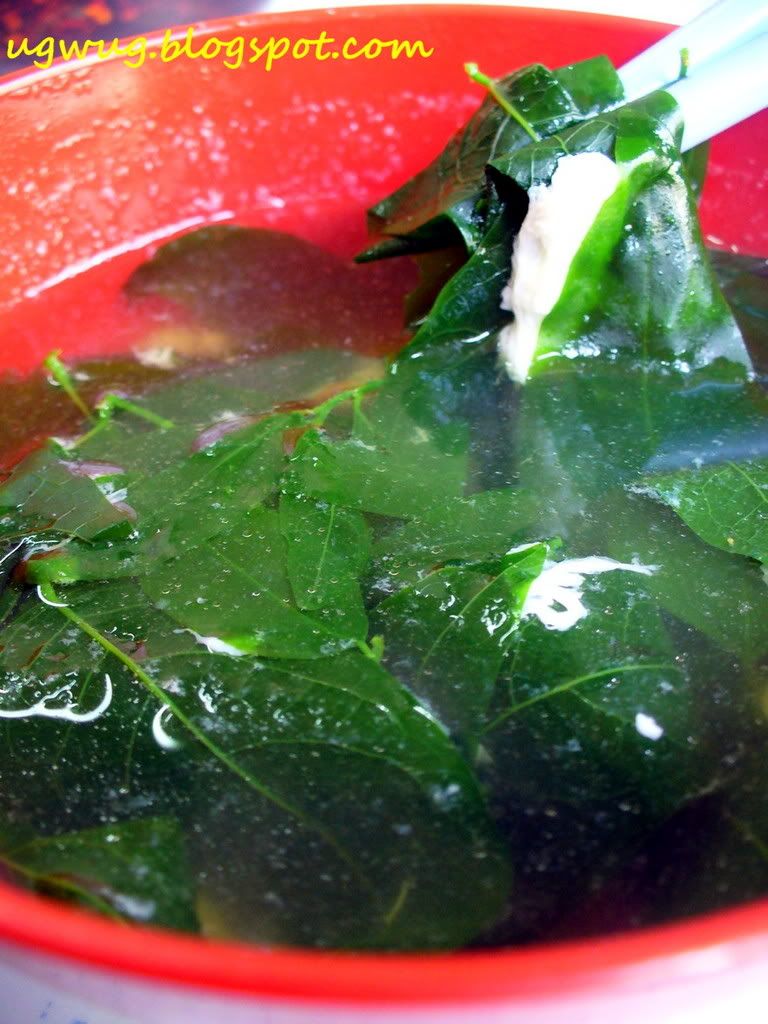 It comes with a bowl of soup on the side, bits of egg white (from the poached eggs), a few slices of pork and potato leaves. This gives you a bit of reprieve from the fiery assault. Ha ha ha...
There is another competitor located opposite serving the same type of Chilli Pan mee; it's signboard even uses the same colour combination as Kin Kin too. I had read and heard that one doesn't get good service from Kin Kin and the owners/workers are not friendly. Well, I think the competitor has done something good to Kin Kin as I found the owners and workers friendlier now. Look, even Uncle posed for me to take a photo of him! At RM4.60 a bowl (not a big bowl too), it's special enough for the customers to keep coming back for more (to some, for more suffering, hee hee..).
If one is looking for something a lot less spicy, try
Tian Ya Ker Mee Cendawan
(Mushroom Pan Mee) located nearby. You can read Boo_licious's review on Kin Kin
here
. So now, who wants to go for the food crawl???
Know the difference between a masochist and a sadist? A masochist says, "Please, please hurt me," and a sadist replies, "No". - Anonymous