Before I continue with Malacca, I just realised that I had forgotten about some photos I took of Lily Cenario Cafe while Mrs Pitt and Zahara were still here. The photos that I took a few months back with my old camera did not do the food justice. So, I decided to take some pics again to blog about.

Located at Section 19, corner shoplot ( facing the open carpark area, behind New Paris Restaurant), the restaurant gives Section 19 folks something different from the usual fare in the area. It's got a simple yet nice, clean look and exudes a calm ambiance. This is the kind of cafe to sit around and do catching up with friends over a pot of tea and scones (cakes and pies also available) or have a leisurely pace lunch or dinner. Oh, by the way, no MSG is used in the preparation of food. It's open throughout the day from 11am till 10pm, and is closed on Mondays.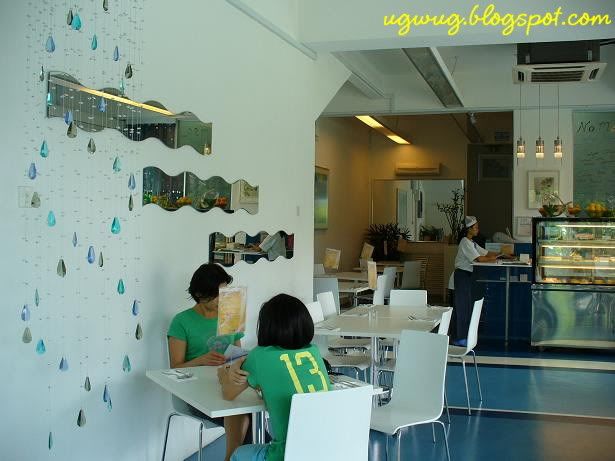 Mrs Pitt, Zahara and I did lunch here before we left for our PD trip as we wanted to have lunch nearby home. We ordered our mains and Crispy Salad Maki (one of my fave food here) as a starter. The maki has crispy tempura bits with a bit of tuna and mayonnaise (I could be wrong about the ingredients but all I know is that it's yummy!).
What makes the food even lovelier are the various sizes of blue glass plates and bowls that have been designed by the owner themselves. I always leave this place feeling calm, dropping by to unwind during a tiring or hectic day.