Feeling stressed? Life a little too hectic of late? Feeling down? Or simply killing time? Go visit
"Orisinal"
, you will find a cure here! Believe it or not, it was Zahara who told me about this site. Having some time to myself tonight, I decided to check it out and found myself thoroughly entertained. Some of you might know of it as it has been around since 2001. I took a couple of screenshots from the website to post here.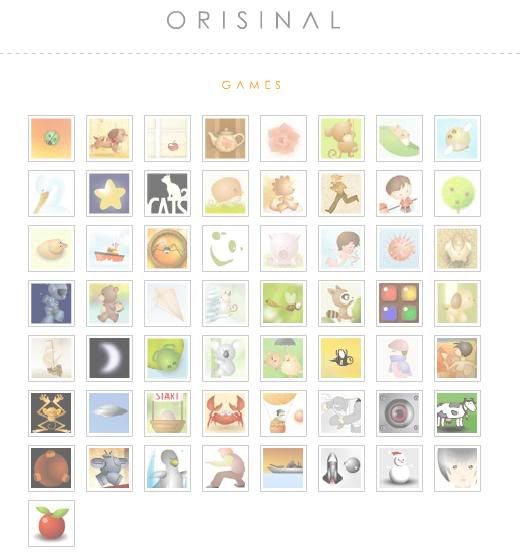 Orisinal is actually a flash game site but it's a completely different kind of game site that one normally comes across. It's art! Games here are designed in mostly pastel shades with soothing background music. If one needs to wind down, this is the online place to do it while having some fun playing games. Like the cute "These Little Pigs" for example, it has Canon in D Major playing in the background (those piggies are so darn cute!). The games may come across as kid stuff to some but most of the games appeal to adults too. I am so in love with this site and amazed at the simple yet addictive games available here. I have yet to go through all the games (57 in all) but my favourite right now is
Midnight Serenade
. Here, you are playing the guitar and serenading your love one. You are to collect as many roses as you can while avoiding the vases, bricks and bottles that are being thrown by your neighbours (for making all that ruckus! Why else?)
Two other cute games are
"Cranky Crabs"
and
"The Three Monkeys"
. In the former, you have been bitten by the cranky crabs once too many time and it's time for revenge. The objective of the game is to hit the crabs with your yo-yo while avoiding beach balls and coconuts that roll across your path. In the latter game, you click on the monkeys to either catch or duck the fruits and bombs that rains on them respectively. Fun stuff! There have been no updates since November 2005 and I only hope that it means there are more games being developed.
Look around and you'll find an online store where you can buy all the cute characters that are printed on clocks, mugs, apparels, boxes and bags. Click around the other buttons and you'll find that Ferry Halim has created a page called "Raindrops" depicting rain. Apparently he loves the sound of rain, so do I. Then there is another button to send e-flowers to your friends. Here you "pick" the flowers and "arrange" them yourselves before you send them off. Wow! Games and all these? I felt refreshed after checking out this website. Of course, there are wallpapers for one to download too.
The only area where you will find "louder" music is in
Trailer
where there is a short intro of Ferry Halim's work. However, the cutest button of all has to be the guestbook. Here you can leave messages but you have a choice of an avatar from 8 types of animated characters, 60 shade of colours and 8 types of facial expressions to choose from. After submission, move your mouse over the character and your message will appear.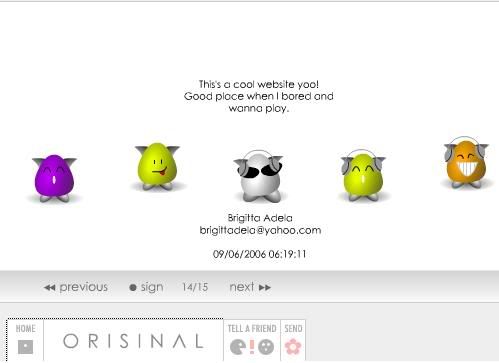 Gosh! The site is so beautiful that not only am I in love with it but I could possibly be in love with this Ferry Halim, the creator! LOL....I'm not a programmer but I can truly imagine the time and effort spent on such details. I can only see one bad thing arising from this website. What you may ask? The danger of spending all your waking and free hours here and ending up being some sort of a Rip Van Winkle before you know it! Ha ha ha.....I better stop waxing lyrically about Orisinal. I'm really in amazement and awe. Check it out and you'll know what I mean (but don't blame me if you end up spending your entire lifetime there! he he he...).
I do believe in love at first sight. Who? Bah!
It's Orisinal!!!
- wmw