After wandering around Malacca on the
1st day
there, mom and I woke up earlier on the 2nd day and I attempted to look for wantan noodles for brunch at Heeren Street. I did manage to get into the area but due to the roads which are mostly one way, it took me a few attempts to get to the right road. When I found Kedai Makanan & Minuman Wantan Mee, it felt like I had struck gold (well, almost...ha ha ha...).
I read that they prepare a different version, one that is added with some chilli paste. Mom ordered the normal one and I ordered the chilli version. The wantan mee noodles were nice and firm - not overcooked. The chilli paste gave it a distinctive flavour making it different from the ones back in PJ/KL (though there is a spicy wantan mee in Section 17, PJ but it's different). The auntie even handed me a plastic bottle of the chilli paste to add more onto the noodles.
The normal version tasted good too and was very flavourful indeed. The BBQ Pork was sliced thinly and I like it as I don't like chunky meat pieces. The wantan was okay and normal. So, it gets the thumbs up from me! This place opens early in the morning till about 2.30 pm and is closed on Wednesday for those thinking of patronising this place.
After our meal, we walked around Jonker Street. A lot of the houses have been converted to retail shops, maintaining the old facade. Mom had moved to Malacca and stayed in Tengkera when she was 19 years old and went to Kuala Lumpur 3 years later. She commented that she couldn't really recognise the place anymore.
While walking around here, I saw the most decorated trishaw in my entire life. Seems a lot of the trishaws here are decked in this way to attract customers who are mostly tourists. The plastic flowers don't do it for me, I told mom that it looked more suitable for my funeral procession. LOL....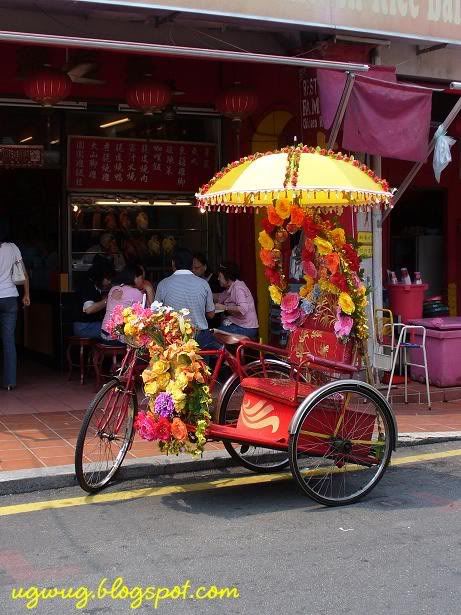 Anyway, my bro had told me that one should get a quote properly from his past experience while in Malacca. He was fleeced by a trishaw peddler who had earlier told him that he would charge RM50 to bring him around to a few places. He told my bro to take his time to look around. Turned out that he was charging RM50 per hour, not a flat rate!!!! It came up to about RM200 plus, but my bro eventually paid him RM100! Well, I'm sure there are some honest trishaw peddlers out there. My bro was just unfortunate to have met one that was not.
I then decided to bring my mom to
A Famosa
as the trip would not be complete if I didn't take her to at least one famous Malacca landmark. The place was pretty busy as it was school holidays.
Oh, I saw more "colourful" trishaws and told myself that the plastic flower business must be doing well in Malacca. Ha ha ha....
To be continued ...