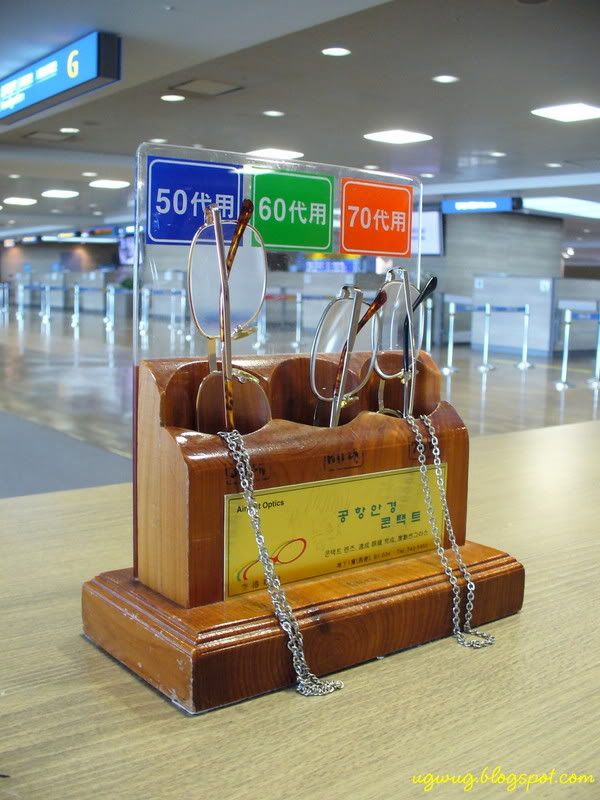 Arrived Incheon Airport, Seoul and was pleasantly surprised to see the authorities there so thoughtful as to provide glasses for the elderly (aged 50, 60 and 70) who might have trouble reading and filling in the immigration/custom forms. Instead of chained pens, you have chained spectacles!
Arriving in the morning, we were whisked off for a Seagull Cruise. None landed on me, apparently if one did, you would have an abundance of blessings. Hee hee....maybe I already have an abundance of blessings, God has been kind to me. Thanks.
I then had my first Korean lunch which was Chicken cooked with some black sauce over a pan placed on the table. I felt a bit uneasy seeing chunks of raw chicken meat being drenched in black sauce and cooking slowly. It was mediocre, where I enjoyed the kimchi and the anchovies more than the main dish itself.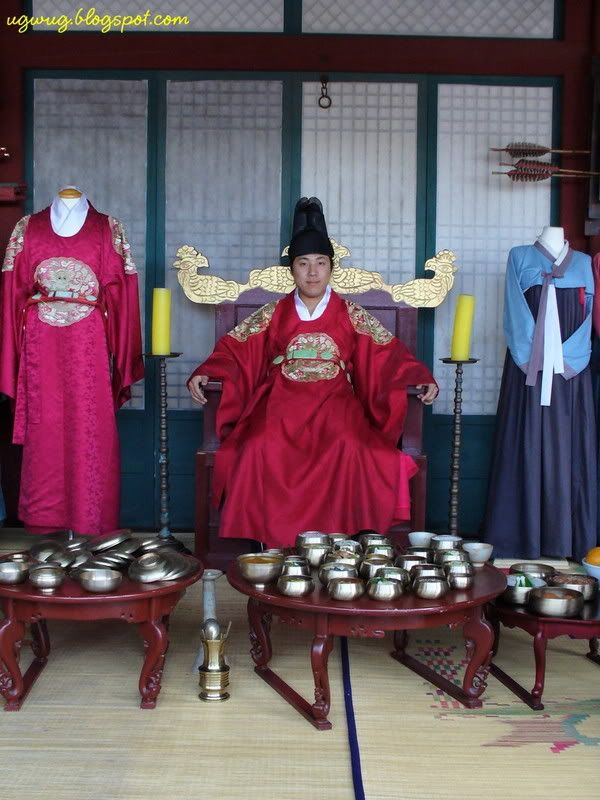 We then headed for a visit to MBC Studio where they filmed the famous Korean series "Jewel In The Palace". Apparently, some extra still had a role to play after the filming ended. ;o) Never really having fully watched the show, I could not fully appreciate being around the location nor share the excitement with the rest. I didn't hang around the area and took interest in other things, watching the people and taking snapshots of other non-series related things.
I came across what seems to be a see-saw but this one is played not by sitting but by jumping on it . Pretty low to the ground but these adults seem to be enjoying it. Nowadays, it's hard for most people to be able to derived such simple and pure joy from simple activities like these.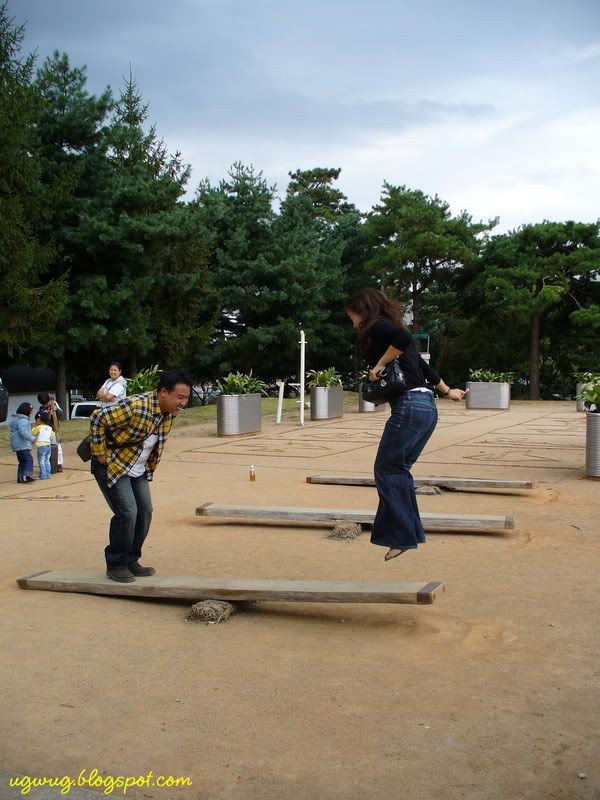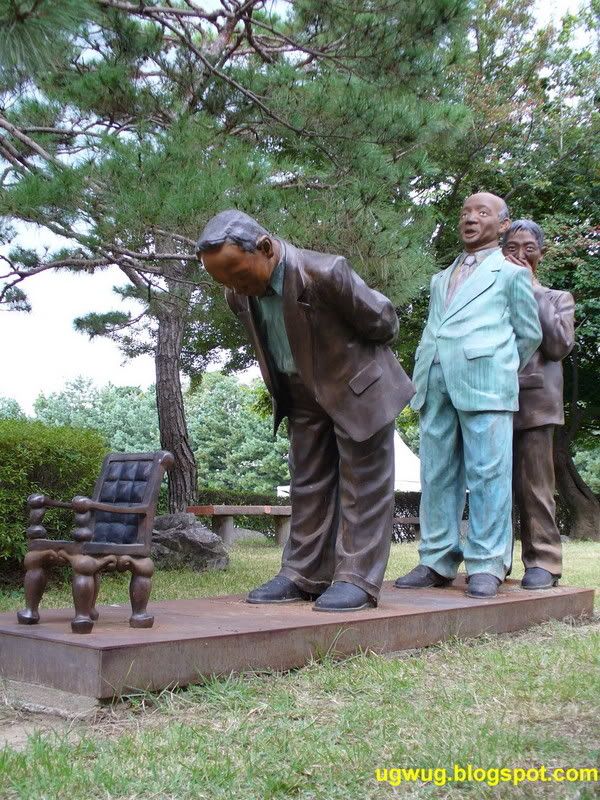 There were several nice statues around and this was one of them. However, being on my own, I don't know the story behind it. Are there 3 giants who are behind MBC (hence the small chair) or is this a parody of some sort, seeing the third man partially hiding and sniggering (or is that a "gasp" of surprise?).
There were several stalls around but we didn't get the chance to try out the food as we were only given a relatively short period of time at each venue. We spent more time on the road travelling from point A to point B (sometimes up to an hour or so!) as traffic is quite heavy in Seoul. At every given opportunity, we made sure we emptied our bladders as we didn't want to be caught in a situation of having to answer nature's call in the bus itself! Ha ha...Anyway, this particular stall at MBC Studio's grounds looks quite traditional, having its own rustic charm.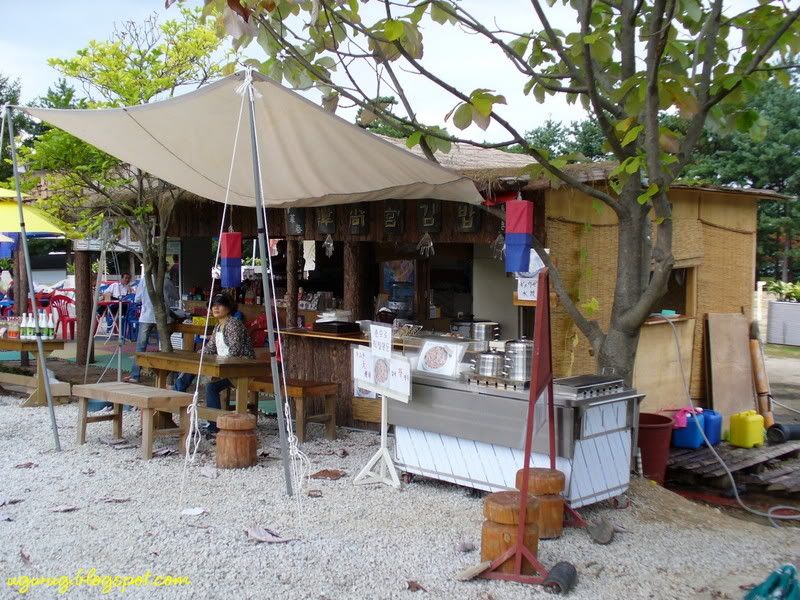 At night, we did a bit of shopping at Dongdaemun Market. There were so many things that were calling out to me but I was pretty good, only bought two pendants. These grape brooches were very nice too, Czar bought one. In the pic, the blue brooch in the middle looks like a face actually, or my imagination could be running wild (uh, even wilder, I mean).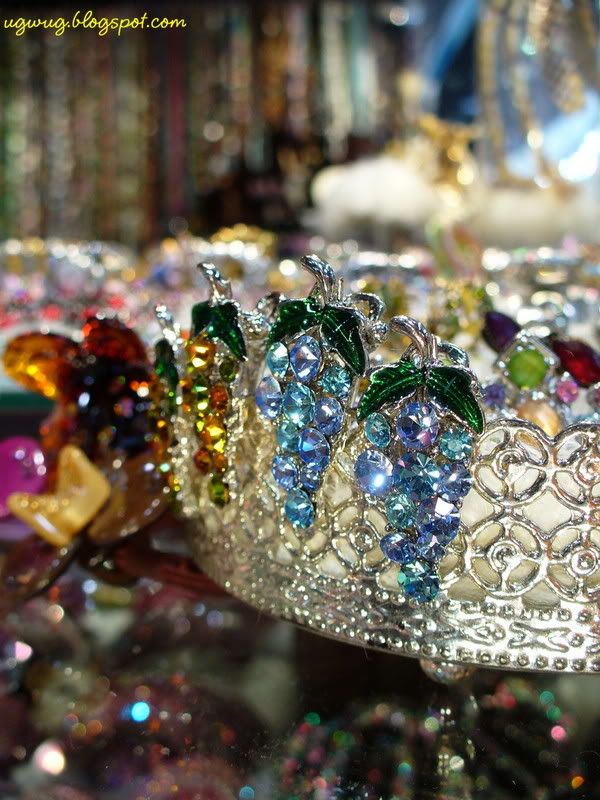 We went back to our hotel shortly despite earlier plans to shop till we drop there (the place closes at 5am!) as we were all tired from the flight. Tomorrow's morning call of 6.30 am also somewhat curtailed us.
To be continued ...