Next was dinner. I was driven into a
kampung
(village) area and told that we'll be having rice with dishes. Upon arriving, I was looking forward to dinner as the ambiance told me that it would be good. We parked the car and had to cross a railway track to get over to
Restoran
Kg.
Kulim
(located in
Wakaf
Baru
) on the other side! How's that for ambiance!?
The dining area really did looked more like the front of
someone's
house where the mom would be cooking in the kitchen and the dishes are then served immediately; piping hot to the dining table. It felt like eating at
someone's
home, I mean. The dishes came that way too, no frills, just home cooked.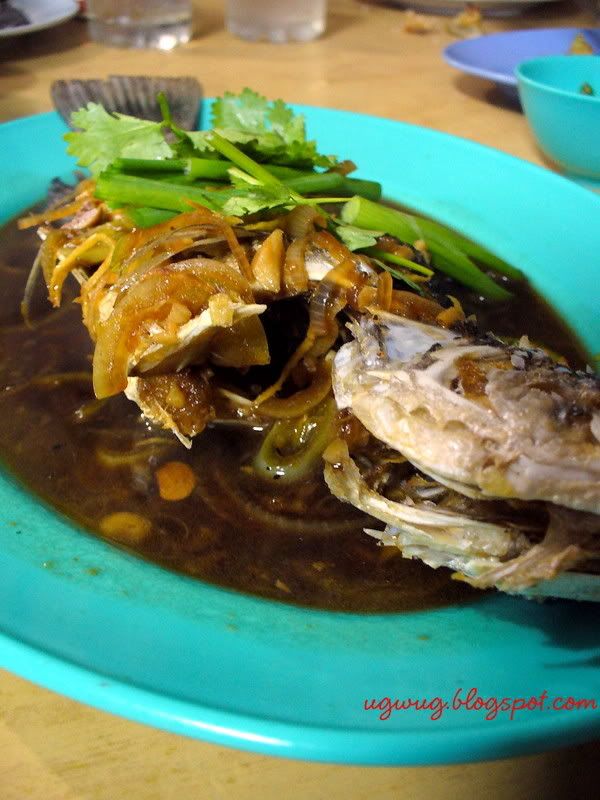 The fried fish - which I did try (don't really like fish). Wasn't fishy and the sauce was nice, maybe it was the onions that gave it a slightly different taste.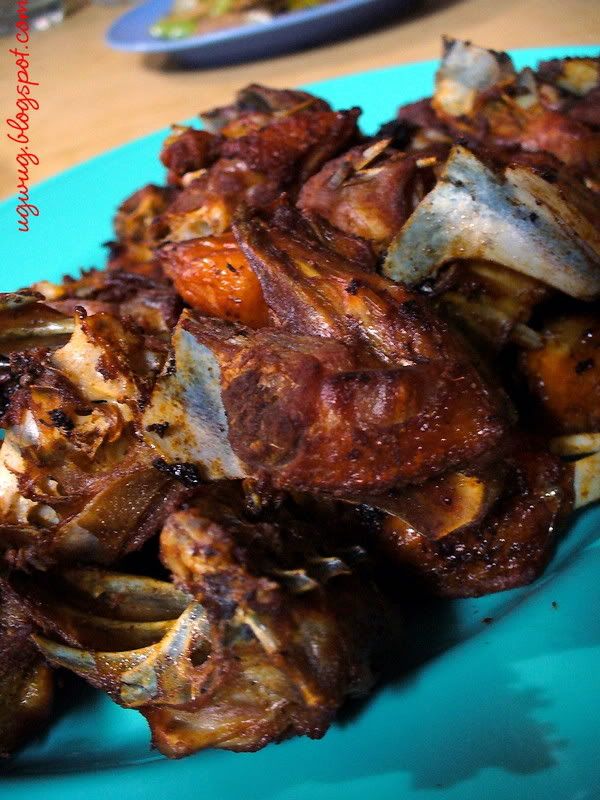 Here you have rather large chopped chicken pieces with bones and all, marinated and deep fried. It was really tasty, not a winner in the looks department but surprisingly thumbs up for taste. Hey, beauty's only chicken skin deep. Ha ha ha...Deceived by its looks indeed!
One of their specialties - Jumbo prawns with
toong
fun (glass noodles). Served
soaked
in
santan
(coconut milk) and a bit of curry spices. A treat for the senses : taste and sight.
Cheow
Yang Restaurant in
Petaling
Jaya
also has this tasty dish (but I'm sure at double or triple the price!) .
The area was dim and the children were hungry, so I didn't really have time to compose my shots and a couple of pics of other dishes didn't turn out good. I couldn't and wouldn't want to make the family wait for me though they made sure I did get my shots. I must say that the family was most kind and encouraged me to take photos each and every time we ate. You see, they are proud of being from
Kota
Bahru
and proud of their culture (and yes, the food too)! They told me they would be glad to see me do the postings on
Kota
Bahru
. They even tried to help me out by arranging the food and assisting me in anyway they can. Really nice family, I thank them for their top notch hospitality!
To be continued...