I met up with Jo & P after my office meeting last Thursday before Jo left for Japan to study on Saturday morning. It was about 10pm when I arrived and after grabbing a quick bite, we adjourned to a nearby mamak stall to continue chatting. I was having my camera with me and Jo said that she wanted to take some pics with P and me. It wasn't the conventional pose pictures but she wanted silly ones! I couldn't imagine that I was involved in such a thing at a mamak stall!!! After relenting and telling myself not to be too bothered about the people around us, we took a number of shots. Anyway, the "agony" was prolonged as P just couldn't stay still and I took quite a number of shots before I got a decent one and I was also made to pose time and time again as P had shaky hands that night. Anyway, my shot with Jo didn't turn out clear but I like this one I took of the two of them. It's such a cute shot.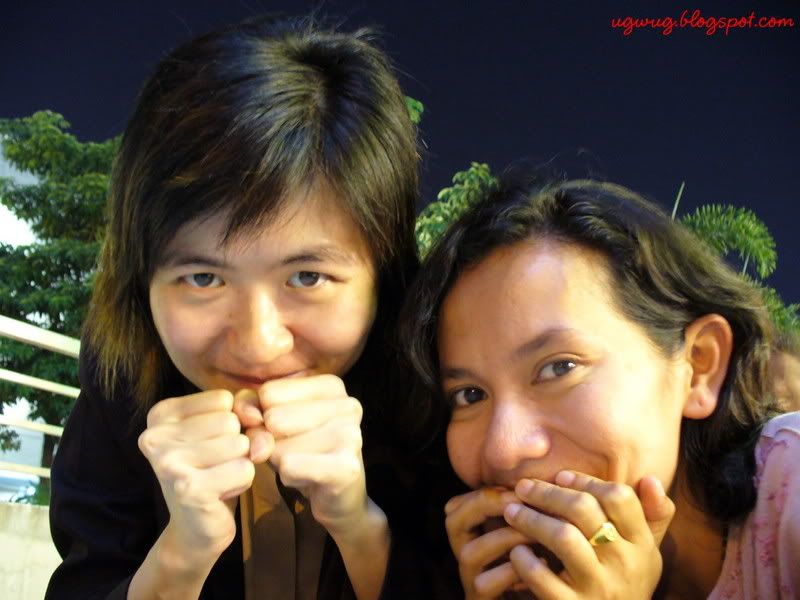 And just before they cry foul that I did not include myself, here's one of the three of us, taken by me as I refused to ask someone to take a pic of us as I told myself that there was no one else around! (I would not have been able to bring myself to go through that photo session if I didn't!) ha ha ha.....it took a few shots before I manage to get us into the frame. Oh, before someone ask me why I'm wearing sunglasses at night again (I really did have someone ask me that!), my glasses are rose wine tinted! It's to cut down the glare since I'm still recovering from
my eye operation
and furthermore, I'll always be looking at life through rose tinted glasses!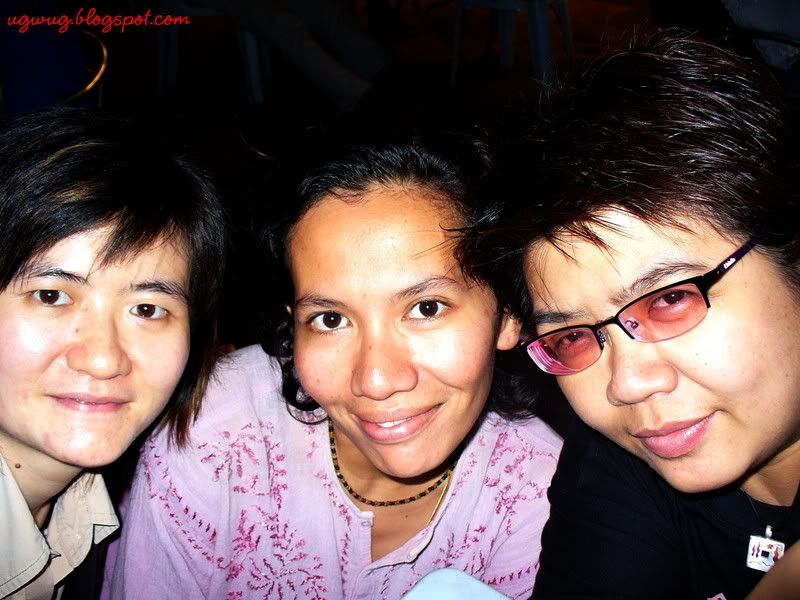 So, anyway, all the best Jo! See you in a year's time! I hope all will be well with everyone in a year's time.
I didn't know whether I had wanted to write about this part but I guess I will. Mr Mah passed away on Saturday morning, he was diagnosed with Stage 4 cancer in early May this year. He was cremated this Monday and her kids and I have been spending our free time trying to keep Mrs Mah's mind busy by taking her out here and there. We all know that Mr Mah is better off being where he is now. Tomorrow afternoon, I'm off to Ipoh to attend a friend's auntie (whom I knew personally) funeral. Whatever it is, when things like these happen (especially after
Jen's demise
), it's a reminder to live life. Oh, bro was admitted to hospital in Ipoh yesterday (there cos of work) but will be discharged today. Sis-in-law and E drove up yesterday to see what was wrong. All is well now, nothing major. Phew!
Breathe life, eat life, drink life! - wmw