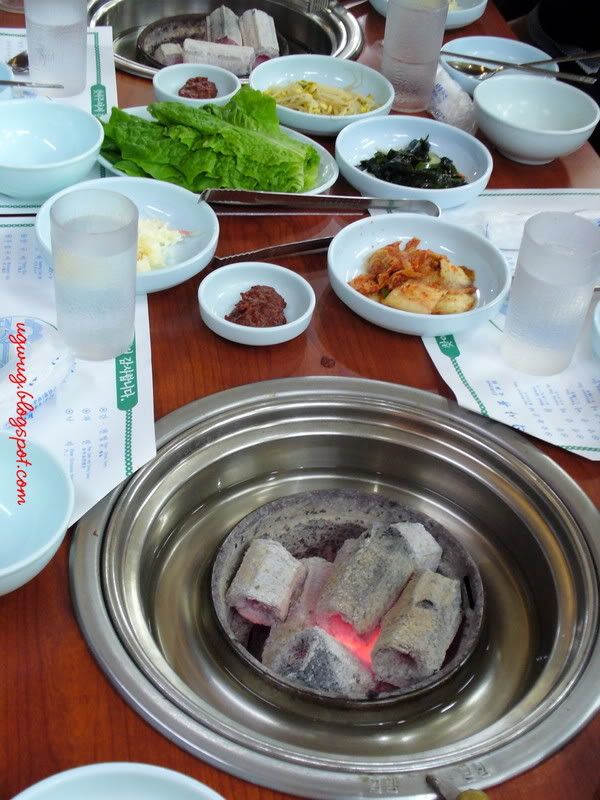 I forgot to blog about the dinner I had on my first night in Seoul, Korea in
Part 1
. Anyway, that night we had a BBQ dinner indoor. What was good was that charcoal was used, what wasn't good what that after the BBQ dinner was over, we left the place smelling like some BBQ meat! LOL....
This reminded me that what happened the next morning. This lady said that she kept smelling smoke everywhere she went. Then we found out that she didn't wash her hair! Ha ha ha...no wonder she kept smelling smoke around her! Maybe she loved the BBQ meat so much that she wanted the smell to linger. I have to admit, the BBQ meal was good! But I was a a bit careful, I made sure the meat was really really cooked (according to the waitress there, it was overcooked!) before I ate them.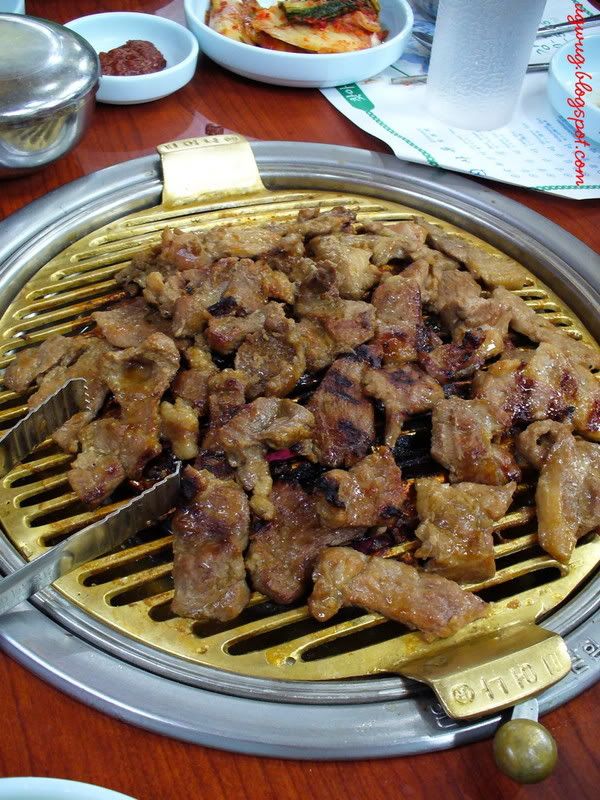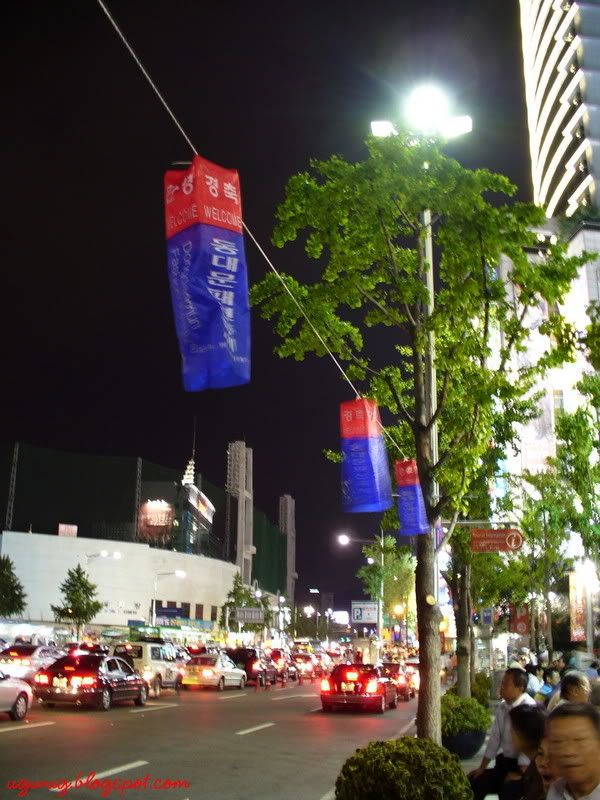 The weather in Seoul was nice, a bit windy at times and cool at night. Temperature ranges between 14-24 degrees Celsius. So, I suppose that's why Korean BBQ meals are pretty common. I can't imagine eating BBQ meals all the time in our Malaysian weather. That would also be another reason why there are little stalls scattered all over on the streets of Seoul, selling grilled meat and all sorts of other hot snacks.
I saw this stall and tried the pork sausage, the meat was on the soft side and the red sauce that covered it wasn't spicy but a bit sweet. Seems the Koreans love this red coloured sauce on their snacks. These snacks were just TOTALLY smothered with the sauce!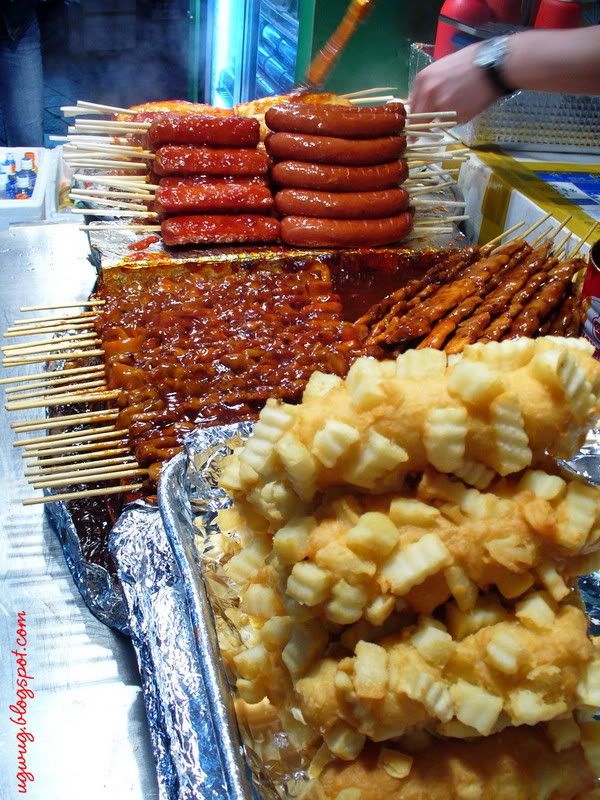 The next morning, we were transported to a restaurant for a buffet breakfast. Seems the food in Ramada Hotel isn't too good. I had no idea where it came from but we had a big tray of sambal ikan bilis (chilli anchovies). We enjoyed dipping the mantou (steam dough) into it and most of us had a few rounds! After that, we went to....believe it or not....Kimchi School. But before we got down to that, we all had a chance to put on a
Han Bok
(Korean Traditional Dress). I took some pics dressed in one but will not post them here as I wouldn't want my readers to die laughing. The pics could have even been more hilarious if I had put on the headpiece (which I politely declined) as it look like a pin cushion! Mrs Pitt and Zahara saw the pic of me in a Han Bok and sworn I was hiding someone else underneath it! LOL...Well, after all the laughter died down, we went into a room to start our class. Here, we are taught hands on as to how to make kimchi. The Koreans do take their kimchi very seriously! We had a kimchi instructor who explained the ingredients used and how to go about the process.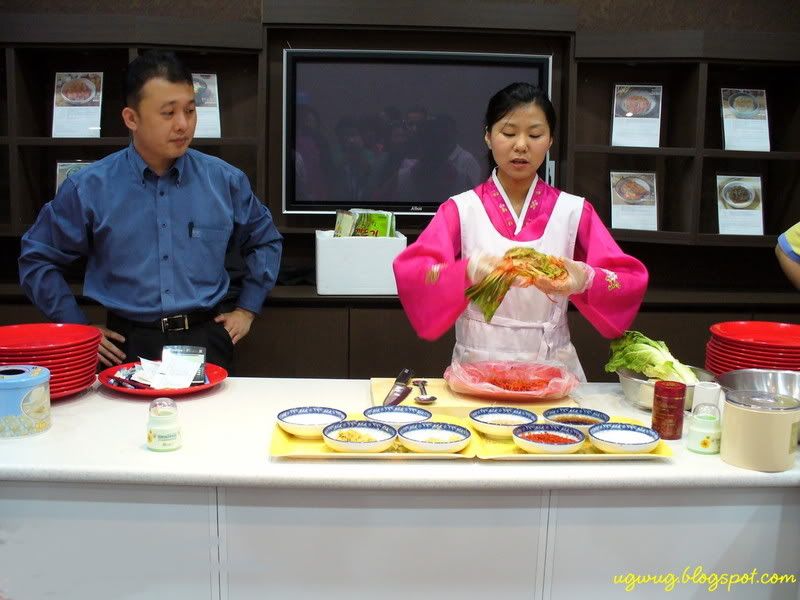 Here we are, the students. Donning gloves and apron, we tried our hand at it. Smearing the chilli paste all over the vegetable was easy, the tricky part was to wrap it into a bundle using the biggest last leaf!
The students can have the option of taking the kimchi back but I decided to leave my kimchi behind as I didn't like the idea of having a plastic bag of pungent smelling kimchi on me and end up smelling like one!
To be continued...