Thanks to an invitation by a friend to join her and her mom, I got to take a one day mini vacation (more like "eye recuperation") in Bandar Sunway. Ha Ha....Actually, it was at The Villa located in Sunway Lagoon Resort Hotel.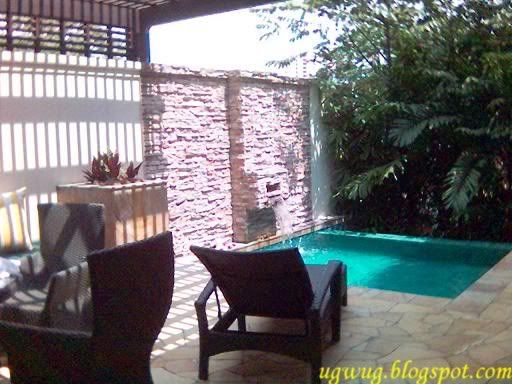 It was a nice break from the daily routine of being in the busy city, and to be here, tucked away in the secluded area though still in the city. It is said that these exclusive 17 villas are spanned within an 800 acre lush tropical garden. I arrived at about 5pm and it was quite hot in The Villa as the sun was out and shining fiercely. There was a small "infinity" pool (an oxymoron huh?) for one to just dip into, not to do laps in. Nearby, there were some rattan chairs and a table where guest could lounge around. I took some shots with my mobile phone as I left my camera back in the house when I rushed out to make sure I beat the 5pm jam along the LDP (Lebuhraya Damansara Puchong).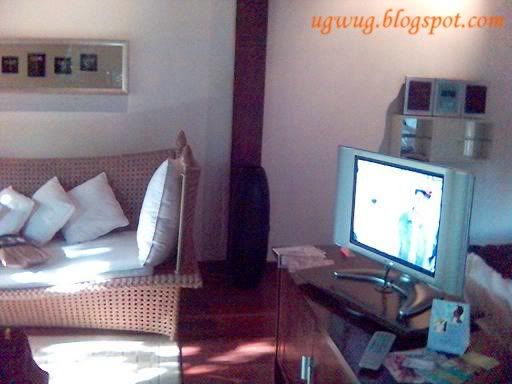 My bed - comfortable sofa bed on the left. I loved the Nakamichi Sound System on the wall (right) though remote control wasn't working!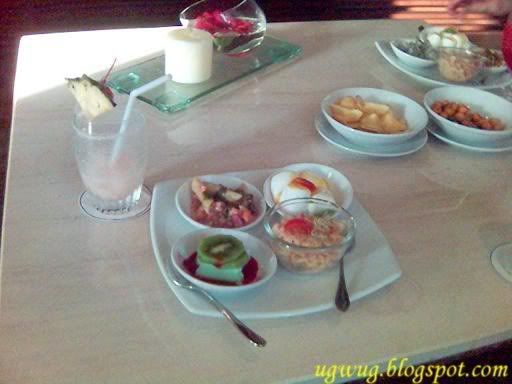 At about 5.30, my friend got a call, reminding her about cocktail hour and we then made our way to the Pavilion. Here, there were complimentary cocktails/mocktails/beer (free flow) and light canapes/snacks served till 7.30pm. The Pavilion is also the reception for The Villa apart from being the dining place for Villa guests. For about RM1,000 a night, I felt The Villa still had some improvements to be made. The service factor was okay, the staff being pleasant but in terms of maintenance and upkeep of the villa, it was not up to par.

I had a bad headache, been having it for about a week. I think it's due to my spectacles which is still at the old power level and my right eye is having problems adjusting. I slept early (11plus, that's early for me!) Anyway, it was a good rest for me. The next morning, breakfast was delivered to my friend and her mom. Quite a big spread - fruit juices, a basket of mini muffins/croissant/doughnuts, yogurt, sliced apples/pear, eggs with sausages and ham, fruit platter and coffee. We ate breakfast near the pool area, enjoying the quiet surrounding.
I even continued a few more rounds "fishing" with Auntie which we started the night before. She's a pro when it comes to playing card games! Ha ha..
Came 12 noon, we checked out and I went back to my 852 sq. ft pad and had another long rest. It felt as good as being in The Villa minus the service because it was my home. LOL ...


It takes hands to build a house, but only hearts can build a home.
~ Author Unknown