Oh, forgot about this till I was going through my photos. I was told by Alicia that I could find green tea ice cream at The Curve. I was happy to hear that and made a trip there. You can find the stall at a tea shop (forgot the name) but it's just outside Watson which is located on the Ground Floor. Once you see Watson, you can't miss it cos you have this giant cardboard standee of a green tea ice cream cone! Well, it's not the best I've tested but pretty good, good enough when one has not much choice! It's not the milky type and you can see bits of green tea leaves or something that looks like bits of green tea leaves, hee hee. So there's a slight bitter taste, which I do like. It's RM2.50 per cone! Well, it's the best and cheap green tea ice cream around, till I find a better one somewhere.


Just the other day, I dropped by the 100 Yen shop in SS2 and chanced upon the Japanese snacks section. I grabbed a packet of "Shrimp Chips" off the shelves. It turn out to be very yummy but Euro said it was tasteless! Ha ha. It's as thin as a Pringle Chip and really did have a prawny taste and I didn't find it tasteless at all! Went back the other day and it's sold out, so I guess others must find it yummy too. Actually, I have forgotten about 100 Yen shops located in the Klang Valley till I went to Japan and came across the 100 Yen shops there. Of course the 100 Yen shops here are not selling their products at the prevailing exchange rate. It's RM4.90 for the general "100 Yen" products while there are some cheaper and some more expensive.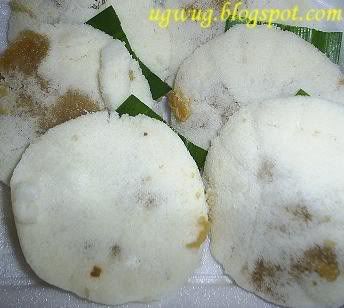 Then there is my favourite kuih (local cakes), I can only find it in the SS2 Pasar Malam (night market) every Monday or at Yulek or was that Taman Cheras Pasar Malam. The uncle who sells it is an eccentric fellow. He doesn't talk much but will sometimes banter with you when you least expect him to! He doesn't touch any of the money, asking his customers to throw the money into a square box and even get the change, if any, themselves. He also always throw in one or 2 free pieces for me! He He...These kuih are made of rice flour with grated coconut cooked in brown sugar or gula melaka as filling. They are steamed and the pieces of pandan stuck to the back of each piece makes the kuih more fragrant! Cheap and nice, only RM1 for 3 pieces. He is the only one I know that sells this type of kuih, I told him that I've been eating it since I was young, buying from him when he sold from a proper stall downtown. Now, I can only catch him at the night market and he doesn't turn up every week. I had been looking for him for the last few weeks and he was missing. Turned out that he was on vacation in China! I only found out what these kuih are called when some girls asked him. He answered "You know Cheng Yu Ling's (the Hong Kong actress) English name? Dodo? This is called Dodo!".


I still get wildly enthusiastic about little things.... I play with leaves. I skip down the street and run against the wind. ~ Leo Buscaglia