Of late, I've developed a love for Korean food. Since my first proper Bulgogi meal with Korean Princess, I've always look forward to Korean fare, namely Bulgogi (sliced marinated beef) and Kimchi Chigae (kimchi soup).

Apart from the great Bulgogi fare in Desa Sri Hartamas, K.Princess has introduced me to two other restaurants. For a cheaper deal, you should try the one located in Amcorp Mall. I can't remember the name but it's the only one located on the 3rd floor. The Kimchi Chigae here is a whole lot nicer than the more expensive one in Desa Sri Hartamas. There are many set meals starting from RM10 and above. Cheap and no frills meal but yet good.

Another Korean restaurant which I found quite good is located in Section 14, the block next to the one opposite TGIF. It's call Dae Jong Gum (following the famous Korean serial "The Jewel Palace"), on the 1st floor. You can't miss the big signage. However it only serves BBQ for dinner, so normally I do lunches here as they have special sets. Here, I settle for the cheaper version of Bulgogi (which also comes with the normal appetizers), RM18 as compared to Desa Sri Hartamas's RM28!.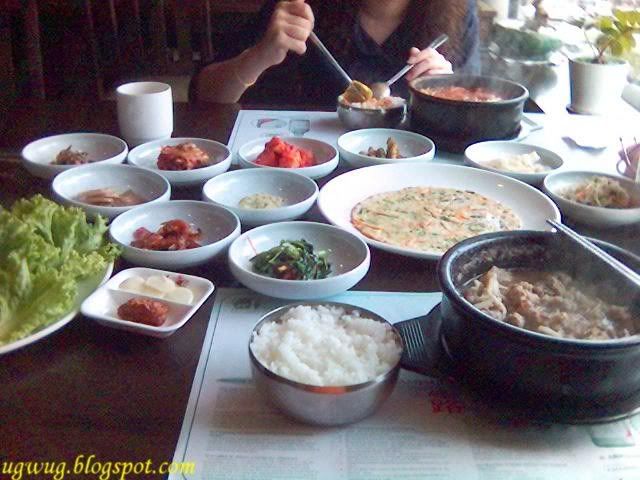 K.Princess tried the Kimchi Chigae soup but found it was still not as good as the one in Amcorp Mall. For lunch, DJG even gave us a complimentary Korean pancake (they even gave out a Kimchi pancake before, nice and spicy). Korean tea and a sweet barley drink is on the house too. A full and satisfactory lunch as compared to, let's say, pasta lunch which will cost about RM16. Give me Korean anytime then. But of course, I can't afford to eat food like this all the time (too much good food and not enough money! ha ha ha) It has taken over Japanese food on my list now especially when raw stuff was never my cup of tea anyway. Unlike Mrs Pitt's feast!
Anyway, according to my blood type, I should be eating more beef! What's your blood type? Check out your blood type diet here. Ok, I'm off to
learn some Korean now.


Do vegetarians eat animal crackers? ~ Author Unknown