A while back, I was having late dinner at Friendster's Cafe in Damansara Perdana when I suddenly realised there was this new Korean cafe across the road. Winter Sonata Cafe, was still opened at around 11 plus. Being curious, I walked across at about 11.55pm and was told by the staff that they were closing (they close at midnight) and told me to come back another day. I had then asked to have a look at their menu and the Korean owner, Jenny Lee, was very friendly and took time to explain the items on the menu to me. There were set lunches available from RM15 and the pics looked nice. I then left, promising her that I will return.

Crazily enough, I went there the next day with K.Princess and was warmly welcomed by Jenny who remembered me. I ordered my usual Bulgogi set and K.Princess had her Kimchi Chigae set. Her Kimchi Chigae set was okay, so that means till now, only the one at Amcorp Mall is the best. My Bulgogi set was not bad and I wouldn't mind returning again. Being termed as a cafe, the cutlery was more westernised but nevertheless Jenny told me that she had bought them from Korea. The place had a nice ambiance and is cosy. The cafe is decorated with Korean celebrities memorabilia - cups, little posters and even pictures from the latest Korean hit movie, King and The Clown. Jenny told me that her sister works as a stylist for the Korean stars back home in Korea! How exciting!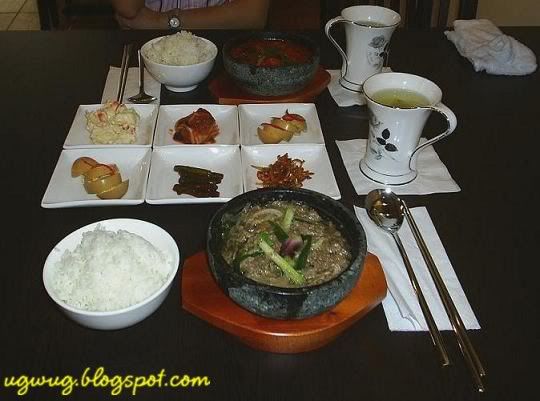 There is a TV screen screening Korean dramas and I guess the setup of this cafe follows the theme of such since afterall, it's named Winter Sonata, after the tearjerker love story hit. There were also candles (only lit at night) all around and I told myself that I will do dinner there one night as I would think the ambiance would be even nicer then. As we left, Jenny told us to drop by again at night for maybe a karaoke song or two! I might not know how to sing Korean songs for now but I will definitely take up Jenny on her invitation and hear her sing!


I would like to have Bulgogi - "Bulgogi juseyo".
One of the first few Korean sentences I learnt. - wmw