I've been taking more photos of late since I started blogging. I realised that I've developed a new found interest in taking pics and now seek to improve my photography skills. Right now, my faithful camera is a simple one, a Samsung 4 Mega Pixel with no optical zoom, basically a beginner's camera. For it's price of USD97, it's good value. I had only started playing around with the different modes of the camera in my pursuit of finding out more about digital photography and came up with surprising shots from a simple camera like this. I'm not a photographer, I just take photographs!

The night mode is one such feature that I'm just beginning to take note of. However, one needs a steady hand to be able to take a shot in this mode. I took this shot just past midnight. It's the view from my friend's 17th Floor condo and the cluster of tiny lights are outlets/shops in Desa Sri Hartamas.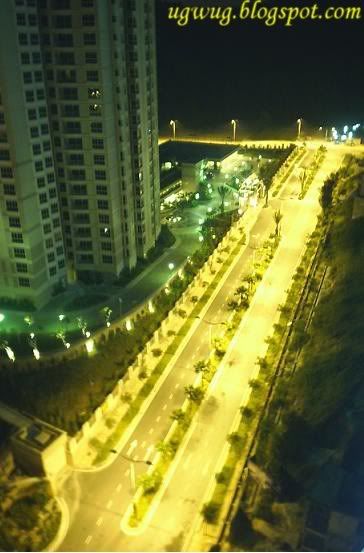 On the right side of the balcony, there's this new condo. I'm surprised the lighting was so enhanced! There's a lot to learn about photography and I'm at baby level! Ha Ha .... These two shots are a bit blur as I've mentioned about the need for steady hands in night mode but I guess they are decent photos. I was at Borders and I actually found myself checking out photography magazines and trying to pick up some tips. Just found out about Gaussian Blur, a technique used in digital photo editing. Yes, I'm indeed fascinated with the endless possibilities of digital photography. I came across this site a while back before I started blogging and absolutely love the photos taken by Arnaud Frich, check out his Paris shots here! The comments are in French, seems English update will be available soon. So now, I have another new found interest (not another one!). Too many things to do, too little time. Add photography to my list of French revision, learning Korean, Japanese and Mandarin (Oh! Am to take up guitar lessons too! Gasp!), not to mention my other fascination with Daniel Henney and Yutaka. There's 183 Club and DBSK too! But for now, priority is to finish cleaning up my place before Mrs Pitt and Zahara shows up next Monday! Yay! I can't wait!


Photography has made me realised that there are two different worlds; one seen through my eyes and the other through my camera - wmw