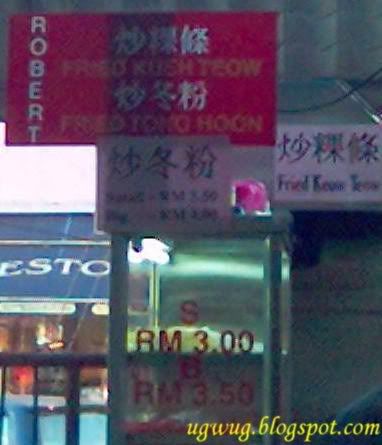 Went for my 2nd checkup yesterday. My right eye is doing okay though there is a slight inflammation as I had run out of eyedrops 3 days ago. Anyway, felt more relieved that the operation was successful (if not, would have to operate again!). Was sent home with some new type of eyedrops and told to come back for another checkup in 3 weeks' time. Since I'm still unable to drive at night, TD offered to give me a ride to our weekly evening meeting. I had a quick dinner with him at Sec 17, Say Huat Coffeeshop. Went there for our favourite Robert's Fried Kway Teow. While eating and chatting, we realised that there were two other stalls there that were similar in the sense that they had an English name. TD jokingly said that this was the globalisation of the hawker food industry!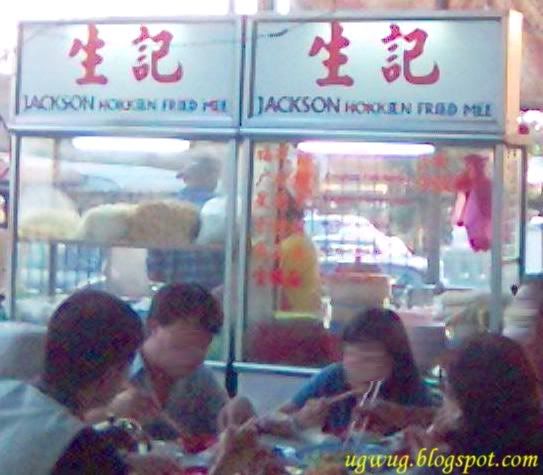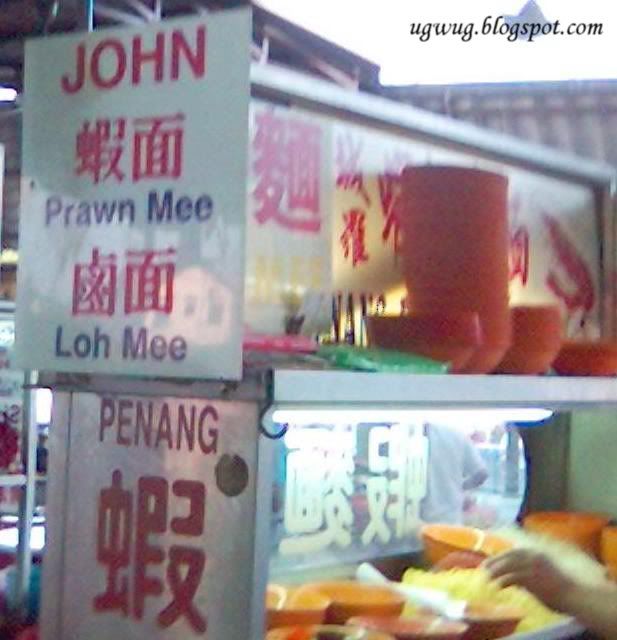 I have not really thought about the fact that some stalls did have English names. But then, there were three of them in a single place, something I've not come across before. Armed with only my camera phone, I took pics of them. So, how local is our local hawker food if they start "globalising" themselves like this? Even the hawkers are influenced by the Western culture. Haha...Whatever happened to good old Ah Beng's Prawn Mee or Ah Lian's Fish Ball Noodles (hee hee...Ah Lian Yue Tan Tong, the Chinese educated would know why I'm laughing). However, I know there aren't much changes as Robert's Fried Kway Teow tasted good and yes, very local still! ;o)

Come to think of it, I've come across some local food places (though not necessarily coffeeshops stalls but small scale restaurants or previously small but gone big scale) that have their own websites too. With all the IT on the web, this isn't surprising but I think we might not be aware of it. There is this small town restaurant in Kemaman, Restoran Tong Juan where I enjoyed their specialty, stuffed crab. Their website address is...what else, but of course www.stuffedcrab.com. They even have a company profile - here's part of it -

"
We
formed since 1971 and specified in making stuffed crab and other chinese cuisine. Under the guidance of our fonder, Mr Chew Nam Ting, Restaurant Tong Juan has become an one top chinese restaurant in Kemaman town."
Eh, specified or not and with due respect to the fonder, please take my word that the food is a whole lot better than their grammar. Here are few more to check out - Nasi Ayam Hainan Chee Meng (Chee Meng Hainanese Chicken Rice), Nasi Lemak House, Ah Koong Fish Ball Noodle, and Nasi Kandar Pelita. I'm sure there's more out there, anyone of you care to add to the list of such websites?


The message for business people contemplating their place in cyberspace is simple and direct: get linked or get lost.
~Vic Sussman and Kenan Pollack