Korean food finally comes to SS2.
Seo
Gung
(located
opposite
of Wong
Kok
, one block away) is located on the 1st floor and the big signboard made it easy for us to spot the place. It would have been easy to miss it as entrance is by a small staircase.
We found the prices high for the BBQ fare. Even the
Bulgogi
was at RM48/person (as compared to RM28 at Korea House in
Desa
Sri
Hartamas
. At Korea House, we normally opt for the
Bulgogi
to be cooked in front us. We will be given the usual small side dishes (a count of 8 plates in all). It does not come with rice, do take note that a metal bowl of rice here is RM5!
PICS FROM KOREA HOUSE,

DESA

SRI

HARTAMAS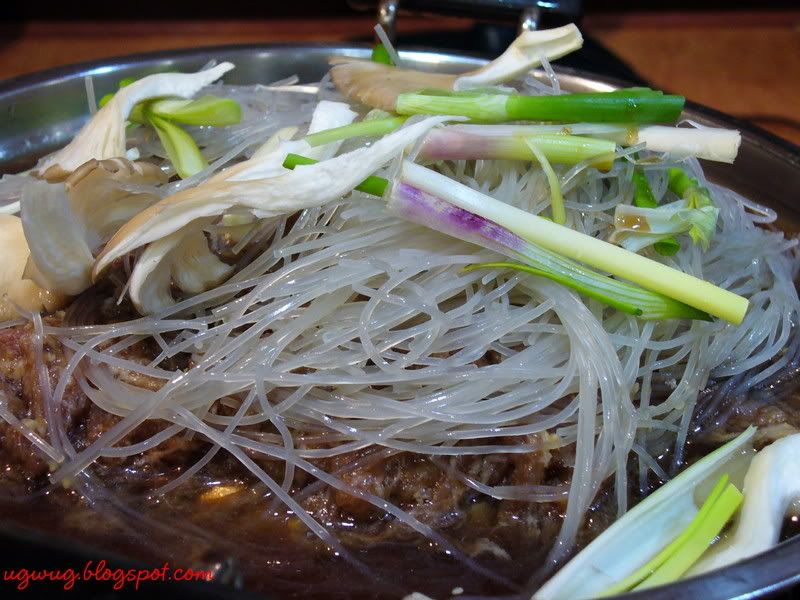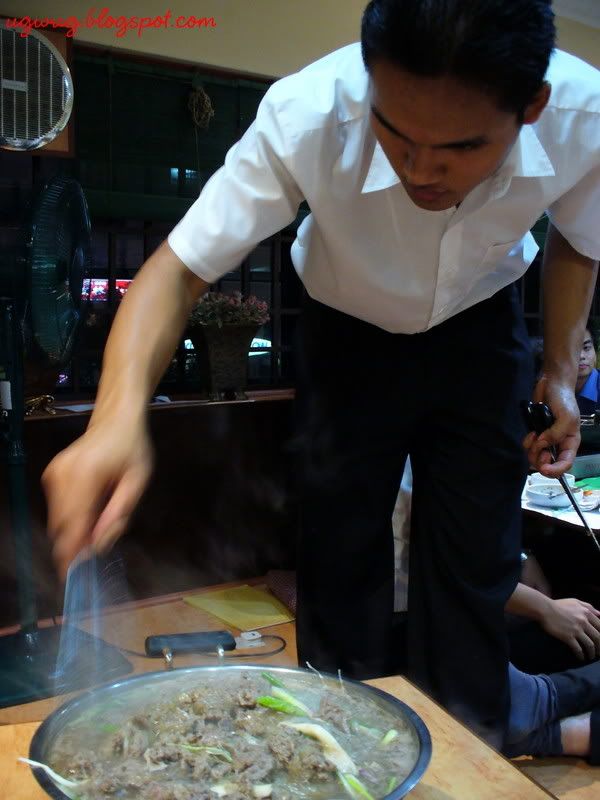 The
Bulgogi
here tastes different each time. At times it's really good and at other times, the gravy can be a bit diluted (could be that too much water was added or it had too little marinate sauce to begin with, cutting down on some of their ingredients perhaps).
Coming back to
Seo
Gung
, SS2 we opted for the
Bulgogi
that is kitchen cooked and also
Kimchi
Chigae
. It was a bigger stone pot as compared to the one from
Haeun
Khon
,
Amcorp
Mall. Here, we were given a total of 10 side dishes, the most that I've come across. The
Bulgogi
was good (RM20), the beef was tender and the gravy was nice. They didn't give me the lettuce and I forgot to ask till we were half done with it, so I left it at that. So, I don't know whether they forgot or it's just not included. However the
Kimchi
Chigae
still lost out to
Haeun
Khon's
version. The
Kimchi
Chigae
(RM15) here was spicy enough but a tad bit more sourish for my liking. Oh well, to each his/her own. However, I would be back here for the
Bulgogi
again! They have set lunches but different items are available on different days (a big confusing). The
Kimchi
Chigae
set is available on Mon, Wed and Friday for RM12.90, no
Bulgogi
set is listed (bummer!).
Oh, here's the link again for
Kimchi
Chigae's
recipe. Do let me know if it's good. It also has lots of other Korean recipes.