I've a story to tell behind the post and pictures today. On Nov 4, I had posted a
short farewell message
to an uncle who passed away in an accident. He used to sell
kuih
tutu in the weekly night market in SS2 and in
Taman
Cheras
(
Yulek
) too.
My friend in
Cheras
told his daughters (who have been carrying on with the business since the demise of their dad) what I did and they were grateful that someone else remembered their dad too. One of them passed a contact number through her, so that I can email her the link. I
smsed
her and asked for her email and two days later, I received a call from the uncle's wife.
I never knew my short post would lead to this encounter. It was heartbreaking indeed to have learnt more about the uncle, Mr Wong. Me, being a real
softie
, tried hard to fight back the tears as Mrs Wong spoke to me. Apparently, it was quite a big blow to Mrs Wong and the rest of the family as Mrs Wong had also lost her son to lung cancer 5 months before the accident claimed Mr. Wong's life. It seems that Mr Wong was feeling tired but had promised a friend to help out with some errands. He was the sort of man who kept his promises. His friend was supposed to pick him up from a designated place but was running really late. As Mr Wong got restless, he decided to drive off to meet some of his other friends first. It was then the accident happened - he drove up the kerb, over the drain and crashed into some trees. Mrs Wong believed that he must have fallen asleep at the wheel for a split second and that cost him his life. He wasn't one to drive fast, and he came across to me as an alert elderly man for someone who's in his 70s, not one who has slow reflexes, I mean.
Mrs Wong tells me it has been hard dealing with the loss and she still looks at his photo every night before she sleeps. He is dearly missed by the family. Only time will help ease the pain and I told her what helped me go through the loss of my dad was to think of all the happy times I had with him. Maybe it would help if she thinks of the happy times she had with Mr Wong too. She had called to thank me for writing about him in my blog and said that if Mr Wong knew, he would have indeed been very happy too that someone thought about him enough to write about him. I then asked if she would send me a pic of him so that I can put in on my blog. I received it last Thursday from her daughter. He must have been in his 50s in the pic. So, today's post is dedicated to Mr Wong and his
kuih

tutu
.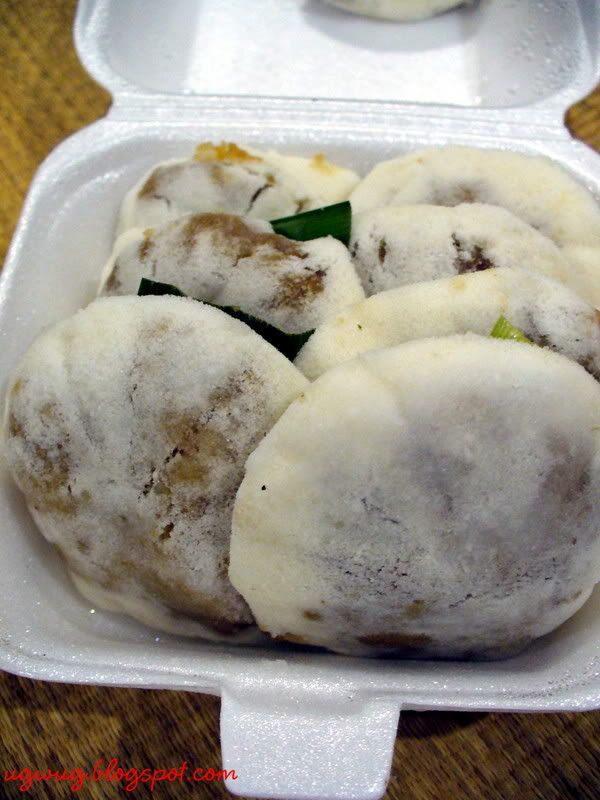 The daughters are doing a great job , the
Kuih
Tutu still tastes great. Not too much flour and tasty filling. They said they are still doing the business as a way of remembering their Dad. Mr Wong, you would be proud of your daughters. Here's to you Mr. Wong. Have a great new life! And to you, Mrs Wong and family, may your tears be dried, souls be soothed and clouds be lifted, all in good time. Live well...
May you have warm words on a cool evening, a full moon on a dark night, and a smooth road all the way to your door. ~ Irish Toast