Continuation ...
We passed by the "Smelly" or "Stinky" Tofu stall which was surrounded by lots of customers. I'm not a fan of this and I nearly fainted (slight
exaggeration
...) from the smell as I made my way through. It didn't help that I couldn't move away from the area quickly as the place was crowded, I resorted to holding my breath! Ha ha ha...Read more about the tofu from
masak
-
masak
.com
here
.
I had eaten this particular type of pork ball from the steamboat stall before (cooked by dipping into boiling water), it has minced pork inside with a bit of soup. So, it sort of "explodes" in your mouth when you bite into it. Hence, the name, Exploding Meat Ball (loosely translated!) However, over here in
Taman
Connaught
, I had the chance to try another style of the meat ball, pan fried style. Yummy, especially with
chilli
sauce.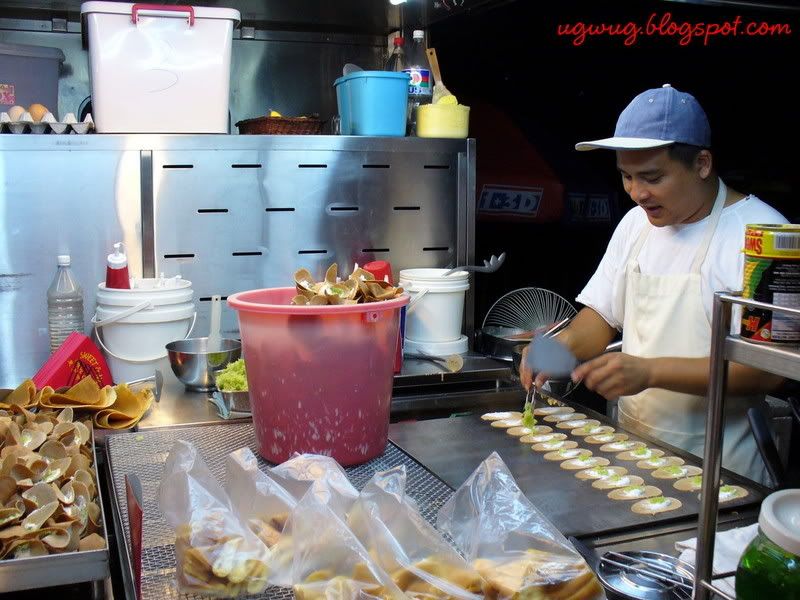 This is how they do the Bangkok's sweet dessert. It's like a mini crepe with some desiccated coconut and some light coconut cream. The batch in the pink pail didn't make it appealing though ;o)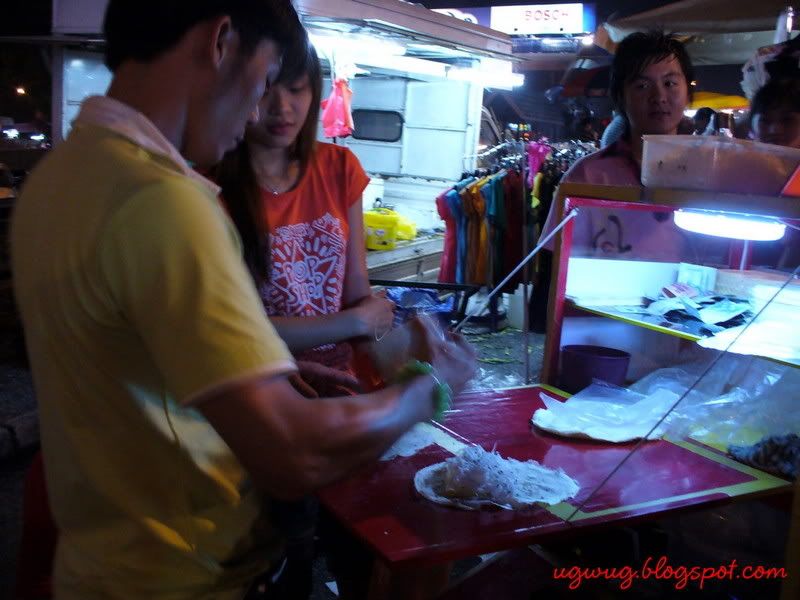 The Vietnamese
Popiah
has desiccated coconut too. A strip of candy like substance (not sure what you call it) and molasses are added onto the
popiah
skin (thin pancake made from wheat flour) which is then rolled and eaten as it is.
We came across this ice-cream and it brought back childhood memories. I have not seen or eaten this ice-cream since my school days. The coconut cream part was not thick enough but I loved it nevertheless as it has been ages (plus beggars can't be choosers!). I wonder where else can I find it?
I still remember the lady who would carry two containers, going from floor to floor and door to door of my flats. There were few flavours available but I always ate the red bean variety. I can't actually recall what the other flavours were. Anyone care to refresh my memory? Eating this ice-cream made me feel like a kid again.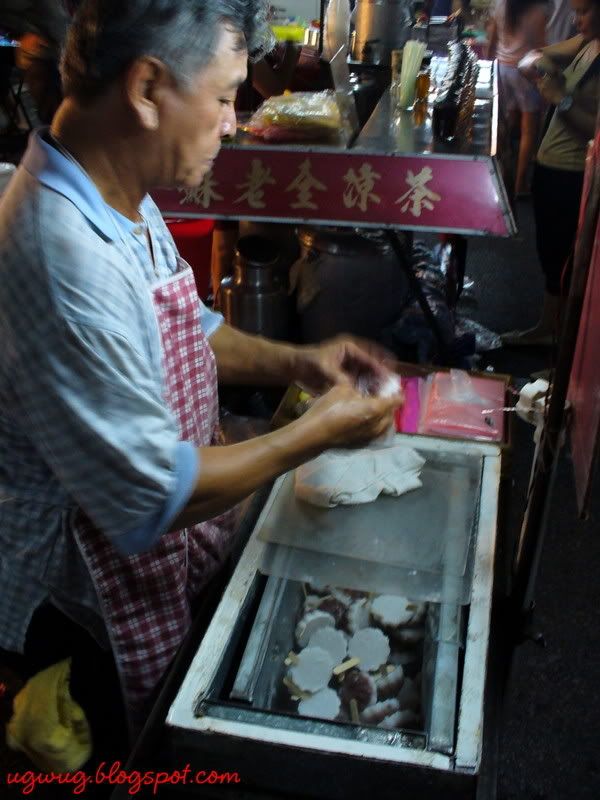 To be continued...
FYI : I'll be going for a minor eye operation later I was told in layman's term that they will be removing a sponge from my right eye. I had an operation end May this year due to retina detachment. The sponge was put into my eye to aid the healing of the retina. Thank goodness the retina is healed but the sponge has somewhat dislodged and now has to be taken out. If the retina was still not back in place, I would have had to undergo major eye surgery again! Well, it's okay, if some of you are wondering how come I can still blog all this while, I do touch typing and only look at the monitor to spell check and do links. Hope to be able to post soon...depending on doctor's advice. But anyway, I guess I'll just be doing even more touch typing for the next week or so. See you all soon...